Konami has revealed details about eFootball's first paid pack. It costs $40 and will give those who buy it access to premium players.
Konami revealed earlier this year that it was completely overhauling the Pro Evolution Soccer series. Now called eFootball, Konami's rebranded football franchise launches on September 30 and will forgo annual installments like FIFA. It will also be free-to-play, with players having the option to pay for additional modes and features through DLC.
The first thing you'll be able to pay for has now been revealed, and it is already available for pre-order through PlayStation and Xbox. The $40 Premium Player Pack includes 2800 eFootball coins and six chance deals. You'll get an additional two chance deals if you preorder the pack between now and when eFootball's first update goes live on November 11, 2021.
RELATED: eFootball Has Promise, But Won't Be Relegating FIFA This Season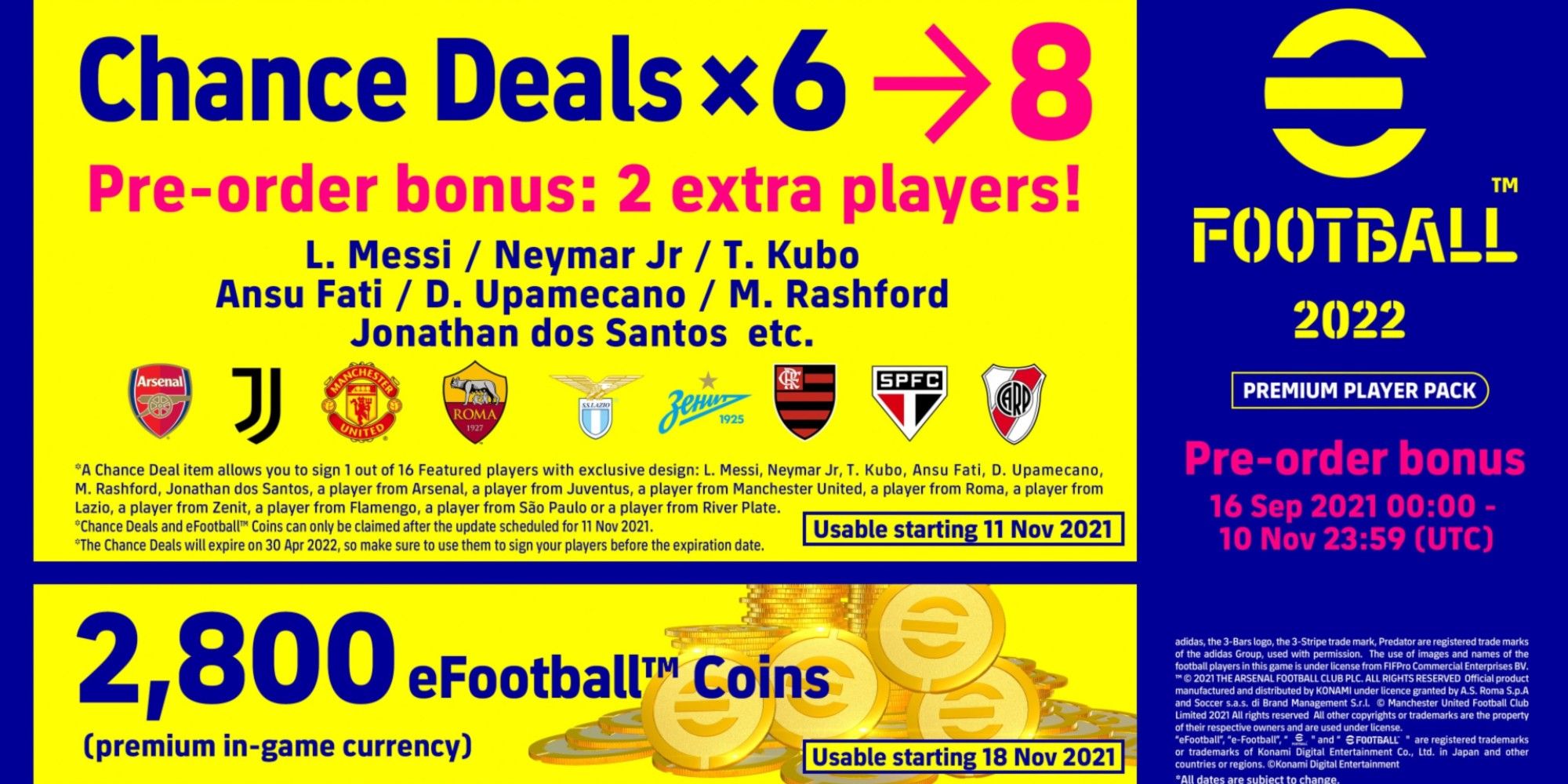 Konami explains that using a chance deal will get you one of 16 premium players. The list includes the likes of Lionel Messi, Neymar, and Marcus Rashford. You can't get the same player twice, which means pre-ordering the pack now will get you half of the premium players that will be on offer. There is a catch though, and it's a pretty big one.
Even though you'll pay for the pack as soon as you order, and will be able to play eFootball when it launches later this month, you won't be able to use your chance deals until November 18, 2021, after the first major update goes live. That's because until then, the only mode available will be one allowing you to play friendly matches with a choice of nine different teams.
Later in the year MyClub, eFootball's equivalent to FIFA's Ultimate Team, will be added to eFootball. Then you'll be able to use your chance deals and add some high-quality players to your own unique side. The jury is very much still out on eFootball for now, and it's unclear whether the reveal of its first pack is going to help that. Gameplay footage shown online earlier this month has already got quite a few people fearing the worst.
NEXT: Everything We've Learned About Marvel's Spider-Man 2