Up until recently, Playground Games has focused largely on introducing Forza fans to the open world of Forza Horizon 5, as well as its variety of features. There's been a handful of examples where Playground also revealed some of the new cars and vehicles from Forza Horizon 5, but they were clearly just a handful of the larger library of vehicles awaiting players. Now Playground has pulled back the curtain, officially announcing over 400 of Forza Horizon 5's vehicles — with more to come.
When Forza Horizon 5 launches on November 9, it'll officially have more than 426 vehicles. 426 is all that Playground is able to confirm today, but more cars and manufacturers are already confirmed to be added prior to launch. That likely means Playground, at the very least, has some surprise reveals it thinks are worth showcasing in a special way. Playground also confirms that Forza Horizon 5's car roster will "evolve further" past launch, particularly through unlocks via the Festival Playlist.
RELATED: Xbox Reveals Gorgeous Limited Edition See-Through Forza Horizon 5 Series X Controller
A list of 426 vehicles is a bit long to call attention to every exciting car, but Playground does provide a shortlist of debuts available on Forza Horizon 5. The list includes the 2020 Ford Super Duty F-450 DRW Premium, the 1991 Jaguar Sport XJR-15, and the electric 2020 Porsche Taycan Turbo S. Playground also once again calls attention to Forza Horizon 5's cover vehicles, the Mercedes-AMG ONE and the 2021 Ford Bronco Badlands, which showcase the diversity of driving experiences available in the game.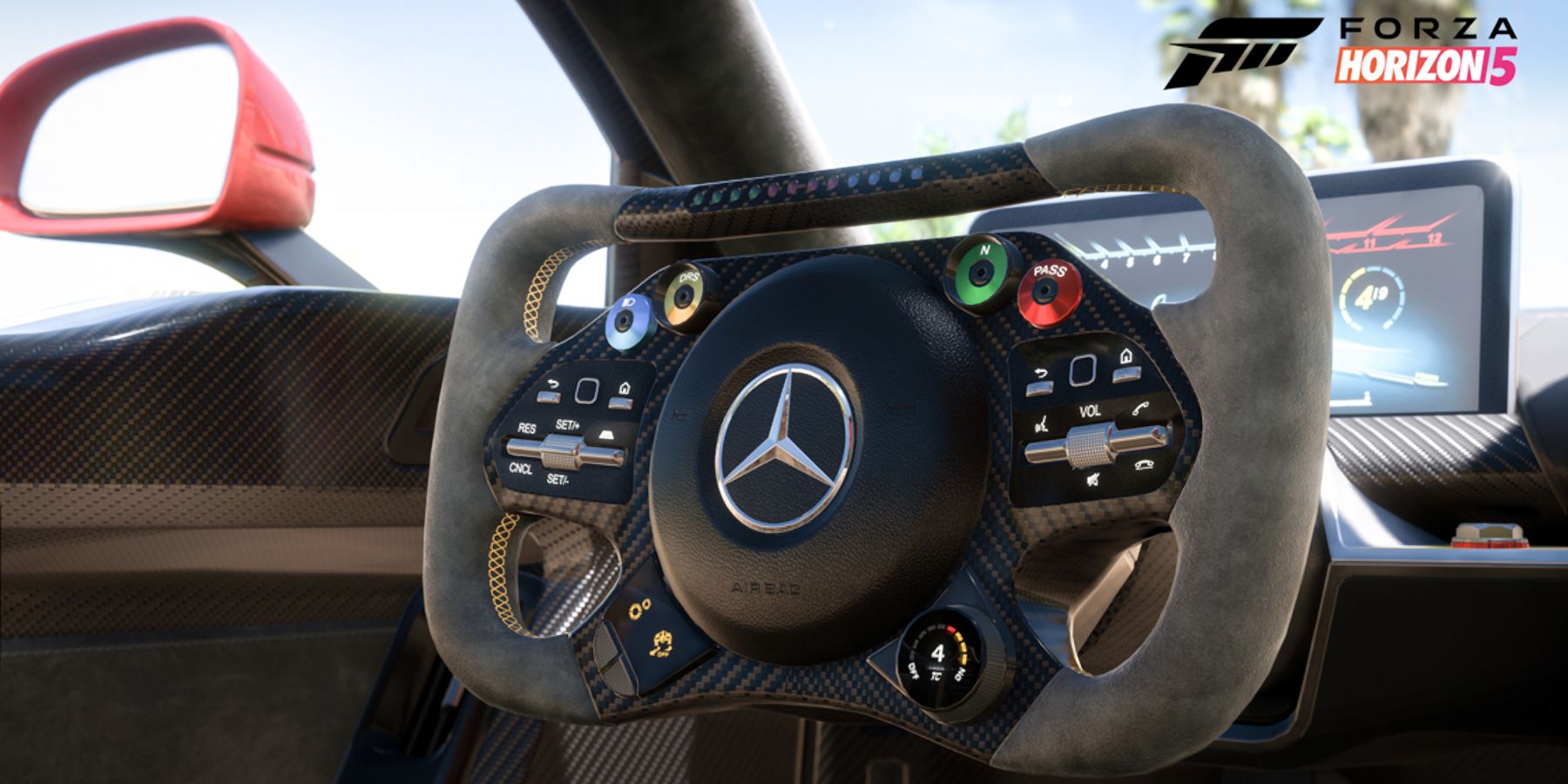 Manufacturers with at least a few vehicles in Forza Horizon 5 include Acura, Aston Martin, Audi, Chevrolet, DeBerti Design, Dodge, Ferrari, Ford, Formula Drift, Holden, Honda, Hoonigan, Jaguar, Jeep, Koenigsegg, Lamborghini, Land Rover, Lexus, Lotus, Maserati, McLaren, Mercedes Benz, Mitsubishi, Nissan, Pagani, Peugeot, Pontiac, Porsche, Renault, Subaru, Toyota, and Volkswagen. And that's just the manufacturers with several vehicles available. There are over twice that many total manufacturers supported.
Alongside the unveiling of Forza Horizon 5's list of vehicles, Playground also calls attention to the return of the Forzavista car exploration mode. This mode allows Forza Horizon 5 players to look through any car they'd like, checking it out in fine detail. Playground is even adding raytracing to Forzavista mode on PC and Xbox Series X/S to make the cars more realistic than ever.
Forza Horizon 5 won't be arriving for another two months, so Playground still has plenty of time left to unveil more cars and show previously announced vehicles off in more detail. Forza Horizon 5 may be more "arcade-y" compared to Forza Motorsport, but it still has that same love of cars and vehicles that car-loving players know they can trust.
Forza Horizon 5 releases November 9 on PC, Xbox One, and Xbox Series X/S.
MORE: Forza Horizon 5 Preview: What's Changing as Playground Games Heads to Mexico
Source: Forza