Genshin Impact seems to be on a mission to rival Final Fantasy XIV in available in-game features. The massive game introduced fishing to Teyvat in the version 2.1 update, an all-new mechanic that shows exactly how the Traveler managed to snag Paimon at the start of your journey.
Related: Genshin Impact: How to Access Inazuma's Hidden Domains
The new mechanic adds in tons of regional fish, new achievements, and the ability to house the slippery little creatures in your very own Serenitea Pot pond. If you want to get started and become a champion fisher, though, you are going to want to know where to get your first fishing pole and how to reel in the bigs ones.
How To Get A Fishing Rod In Genshin Impact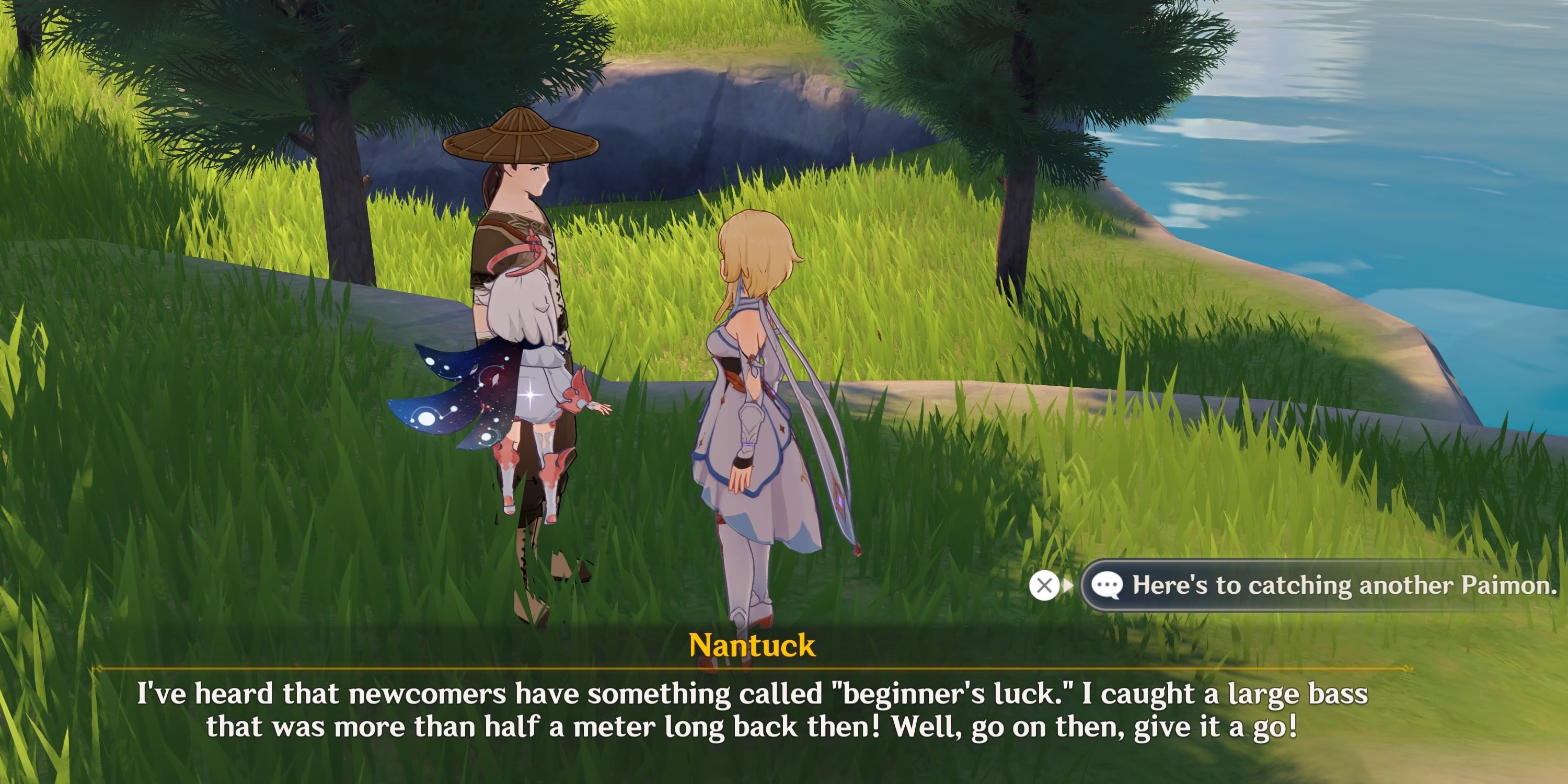 Getting your first fishing rod in Genshin Impact is super easy. To get started, head to Mondstadt and talk to Katherine to start the Exploding Population quest.
This will send you to the lake just outside the city to talk with Nantuck, who will give you your first rod and bait. After you manage to catch a couple of different fish for him, the system will truly open up so that you can begin to get new poles and bait recipes. If you want to practice a bit, then use the two fishing spots that Nantuck first shows to you to reel in some of the smaller fish.
Fishing Rewards In Genshin Impact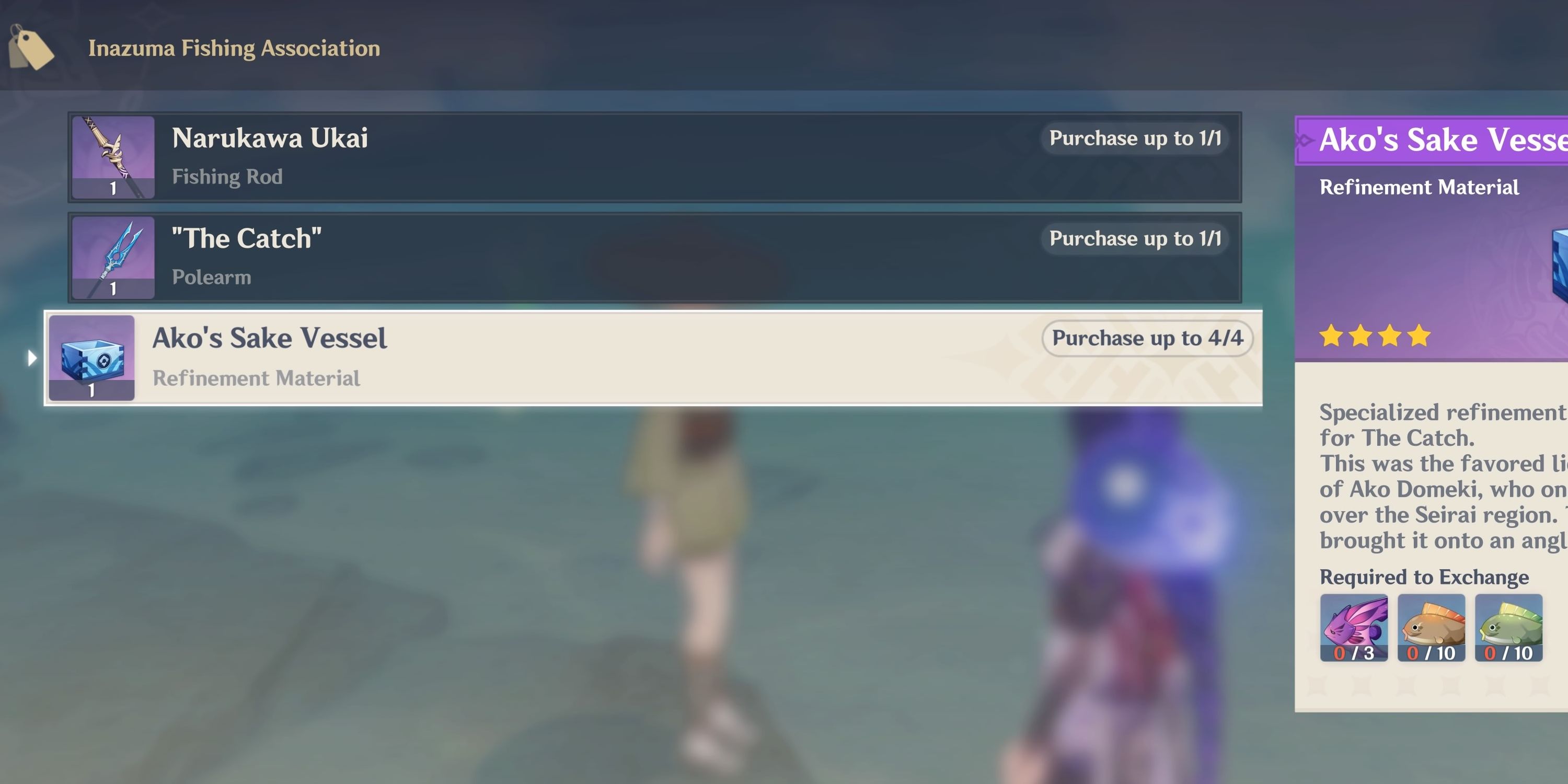 Fishing is an activity that you can do in order to earn in-game rewards; this includes the weapon The Catch from the Inazuma Fishing Association. If you want to add a pond into your Serenitea Pot, then you can visit the Liyue Fishing Association to exchange fish for the Pool of Sapphire.
There is also a new set of achievements that revolve around fishing if you are looking to collect some extra primogems and collect all the game's name cards.
Related: Genshin Impact: How To Craft Inazuma's Weapon Set
How To Fish In Genshin Impact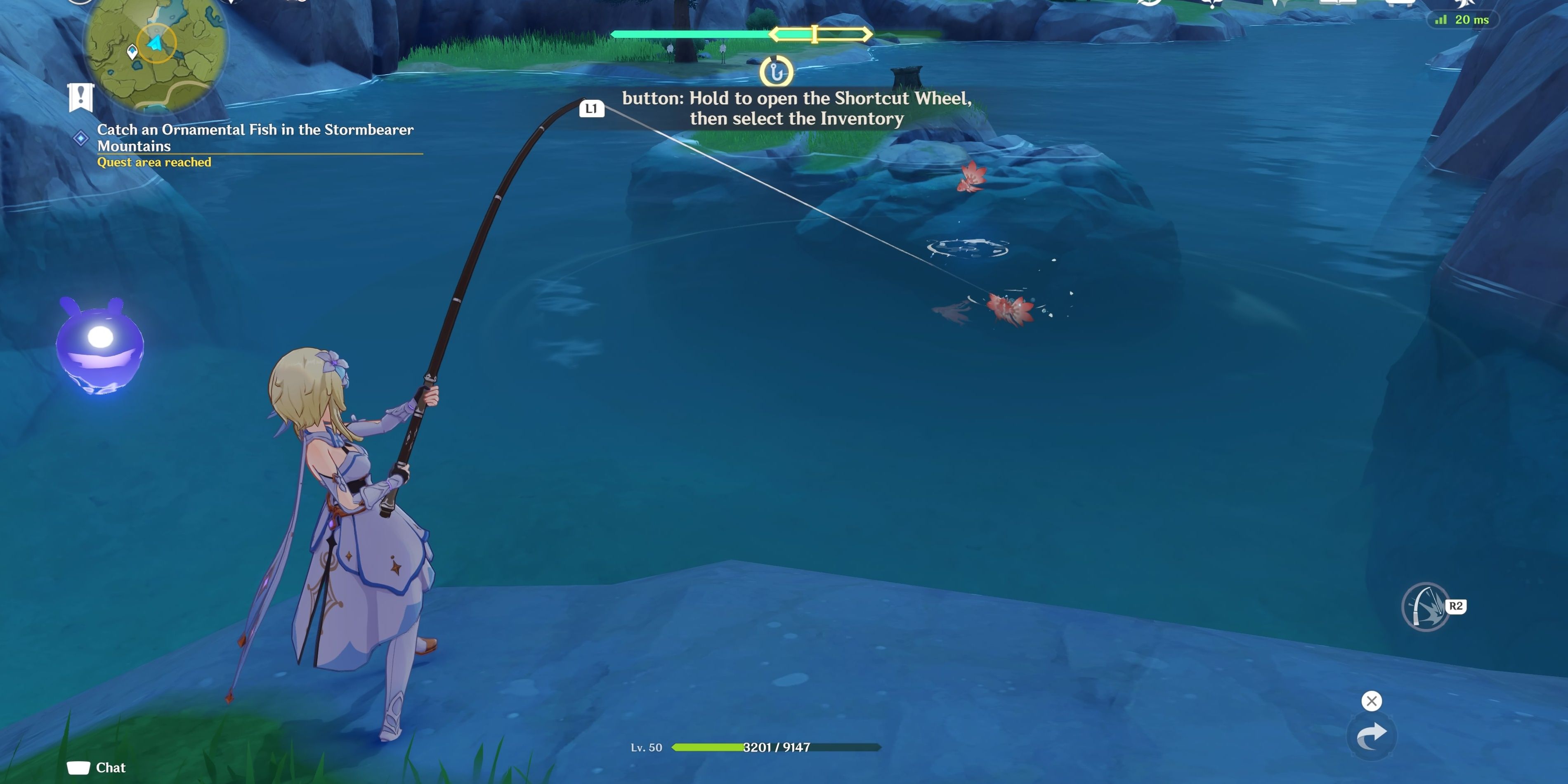 To fish simply follow these steps:
Locate some fish by looking for a blue marker in water.
Once here you'll see a pop-up you can click to begin fishing.
Select your rod and bait from the menu that pops up.
Click to cast the line near the fish.
Once a fish grabs the bait you'll see "You've got a bite!" appear.
Click again to reel in the fish.
Here comes the hard part, actually managing to reel in all the fish. You'll need to use the right bait to lure fish and then keep clicking to keep your line inside the moving fishing bar to nab your catch.
This can be a bit tricky to do, especially when you start taking on different varieties of fish in the game. There are a few tips that we compiled to help you make the most out of fishing.
Don't pay attention to the capture circle as it will throw you off; Paimon will verbally indicate when you are close to reeling in your catch.
Keep in mind that bigger fish seem to have a higher bounce rate and will end up taking more time and patience to catch.
Don't rush the mini-game; it can take a bit of time to reel in some fish, and when you try to speed things up, you will likely lose your catch.
Some fish take a bit of time to take the bait; if a fish isn't immediately biting onto your rod, it doesn't mean you picked the wrong bait type.
If you fall in the water, don't worry, the fish will reappear again after a few seconds.
You can switch bait types while actively trying to lure fish.
All in all, fishing in Genshin Impact is meant to be a fun, relaxing experience and isn't made to be incredibly hard to do.
Fish Respawn Time In Genshin Impact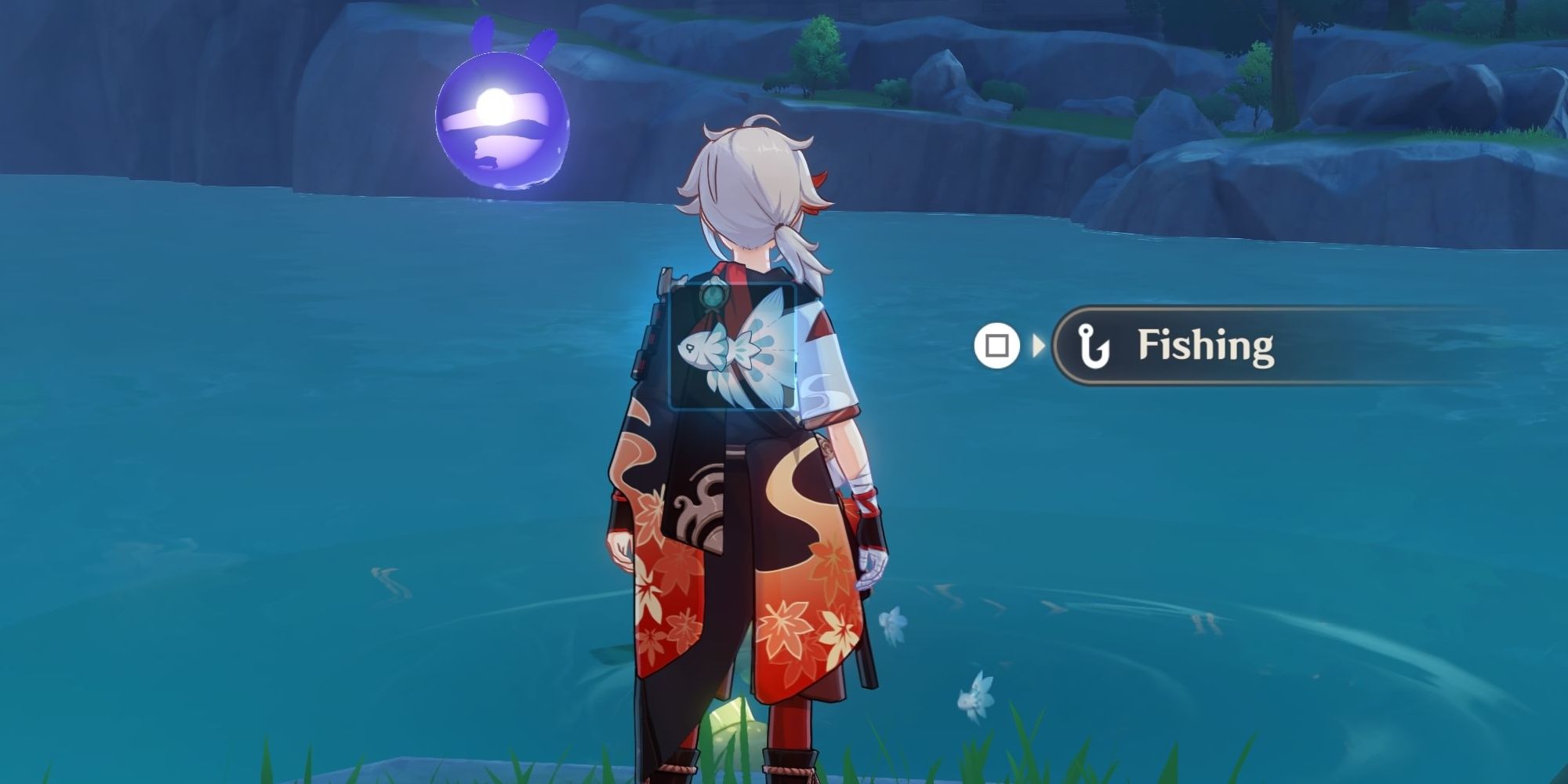 As of right now, it seems that once you catch all the fish in an area (including night fish, if applicable for the spot), they won't respawn until the daily reset. Luckily there are several fishing holes sprinkled all over the map, so by hitting each one, you can gather a sizable catch.
Occasionally when you are catching fish, another one will spawn to take the place of the one you just caught; this is likely because each spot has a set amount of fish but doesn't want to clutter the spot with them all at once.
Related: Genshin Impact: Where To Find All Wood Types
Genshin Impact Fish Bait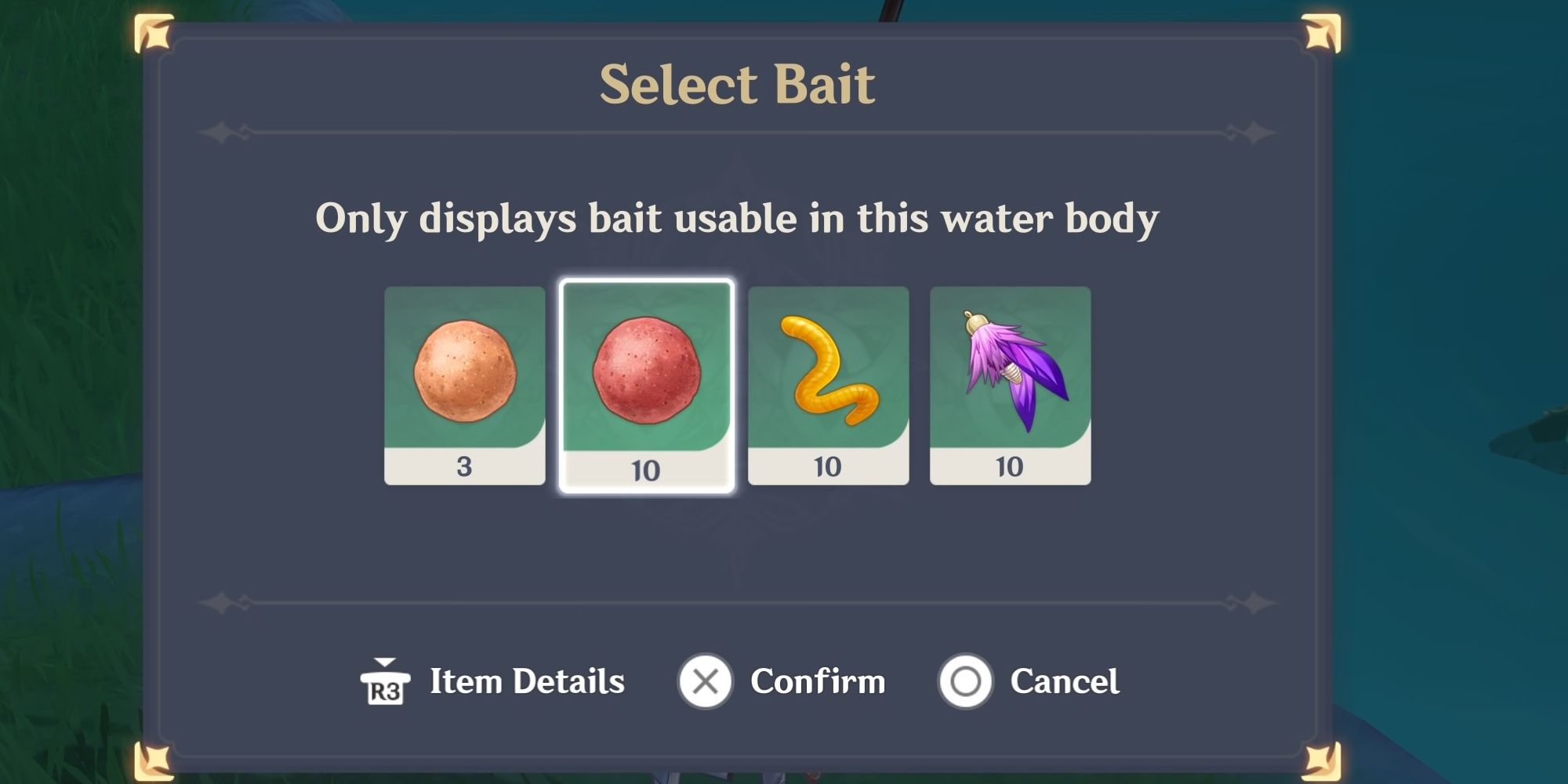 There are four types of bait that you can use for fishing in Genshin Impact, and you will get the first recipe for free. The other three recipes can be purchased from Nantuck in exchange for fish right outside of Mondstadt City.
The four types of bait that you can use are as follows:
Fruit Paste Bait
Redrot Bait
False Worm Bait

1 x Slime Condensate
1 x Berry

Fake Fly Bait

1 x Sakura Bloom
1 x Horsetail
These can all be crafted using the required ingredients at alchemy tables and each set of ingredients creates ten bait. In addition to bait, you can also get rods that make fishing easier from each region's Fishing Association by exchanging fish that are local to the region.
Next: All Genshin Impact Quest And Boss Guides And Walkthroughs