Genshin Impact's first video game crossover was previously thought to be Honkai Impact 3rd, miHoYo's other major title. But instead, it ended up being the unexpected Horizon: Zero Dawn, a Sony-owned AAA game that released to critical success. However, the crossover was unprecedented as the games have little in common, between combat, gameplay, setting, and graphics, even if collaborations are normal among the gacha genre.
But the graphical rendering of Horizon's Aloy went over well among fans, her adorable design translating well into the land of Teyvat. This makes way for a massive number of other crossovers with Genshin Impact that could occur in the future to promote other titles and bring new gamers into the popular gacha game, such as Kena: Bridge of Spirits. Due out later this month, it could be the perfect opportunity to collaborate with miHoYo.
RELATED: Everything We Know About the Rot in Kena: Bridge of Spirits
Kena Would Be a Great Genshin Impact Gacha Character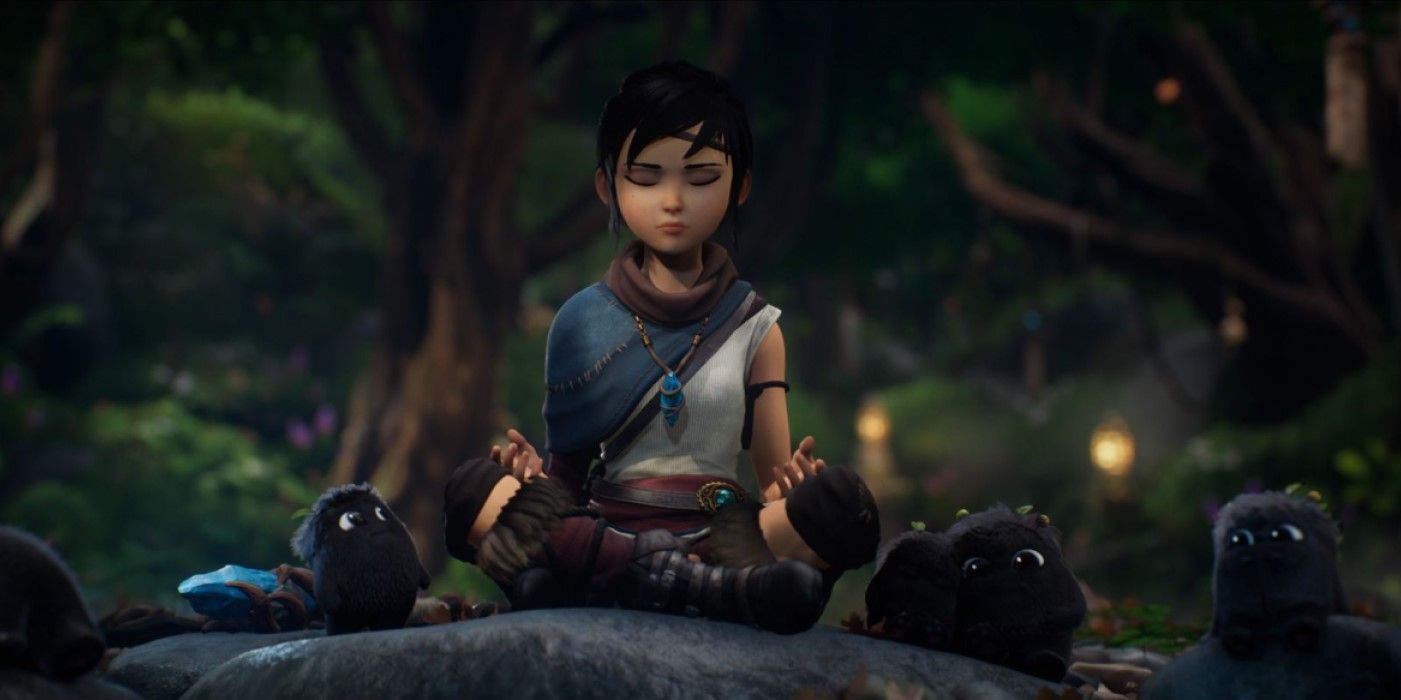 In Kena: Bridge of Spirits, players will of course assume the role of Kena, a spirit guide. She helps escort the souls of the dead to the other side. Typically, these souls are those with unfinished business or restlessness, and she helps them find a peaceful end.
Along the way, Kena will meet small creatures known as the Rot. Unlike their name, they're quite adorable and have been often compared to Pikmin for the way they follow the protagonist around and help Kena complete tasks. Also like Pikmin, Kena will collect more as time passes. But as cute as they might be, possibly the only way they would make sense in Genshin Impact's world is if one or a few tagged along like a companion.
But the game will be more than just one long escort mission. Throughout her journey, Kena will encounter angry spirits, and she must defend herself. Based on gameplay of Kena: Bridge of Spirits, it's easy to see how her moveset, include her climbing and jumping abilities, could translate to Genshin Impact.
The big question would be what Kena's weapon of choice would be, though there are two obvious ones. Kena could either be a catalyst user or another bow wielder much like Aloy. But Kena's staff has several powers, according to the developer and Bridge of Spirits' trailers. Her staff can be used as a light and for light and heavy melee attacks as well. While staffs aren't used in Genshin Impact–at least, not yet–it would be interesting to see Kena as a regular "sword" with her Elemental Skill turning it into a bow.
Kena also has an ability to create a protective bubble around herself, and shields are quite common in Genshin Impact's roster, especially among support characters. And being able to switch between melee and long-range attacks is something already seen with Childe, also known as Tartaglia. And Dendro would be quite fitting for Kena's vision because of the way she interacts with the world in Kena: Bridge of Spirits.
Whatever the would be, a collaboration between Ember Lab and miHoYo would likely excite gamers just as much as when Aloy joined the Genshin Impact roster and would be a perfect opportunity to promote Kena: Bridge of Spirits, due out later this month.
Genshin Impact is out now for Mobile, PC, PS4, and PS5.
MORE: How Aloy's Abilities in Horizon Zero Dawn Translate to Genshin Impact