After months of waiting, the War for Wakanda expansion has finally arrived and a new era of play is upon Marvel's Avengers. This major content expansion, and the addition of Black Panther as a playable hero, mark the end of a long content roadmap that had been carrying the community through a little more than the first half of the 2021 calendar year.
Now that War for Wakanda has arrived, many fans are curious what is next for Marvel's Avengers. Obviously the PlayStation exclusive Spider-Man content is still on the way, but other major updates and expansions are a bit of a mystery. The team behind the game is eager to prove that there is definitely more to be excited about on the horizon and they are already committing to a reveal date for the updated roadmap.
RELATED: Marvel's Avengers: War for Wakanda – How Long Is It?
This week's usual blog update goes through the usual content rotations, Marketplace changes, and highlights some upcoming excitement in the game; but it also looks to the future. In addition to committing to a date for the roadmap reveal, the blog post also confirms an upcoming State of the Game post that will reflect on the last year and look ahead to discuss what is on the way to the game in the near future…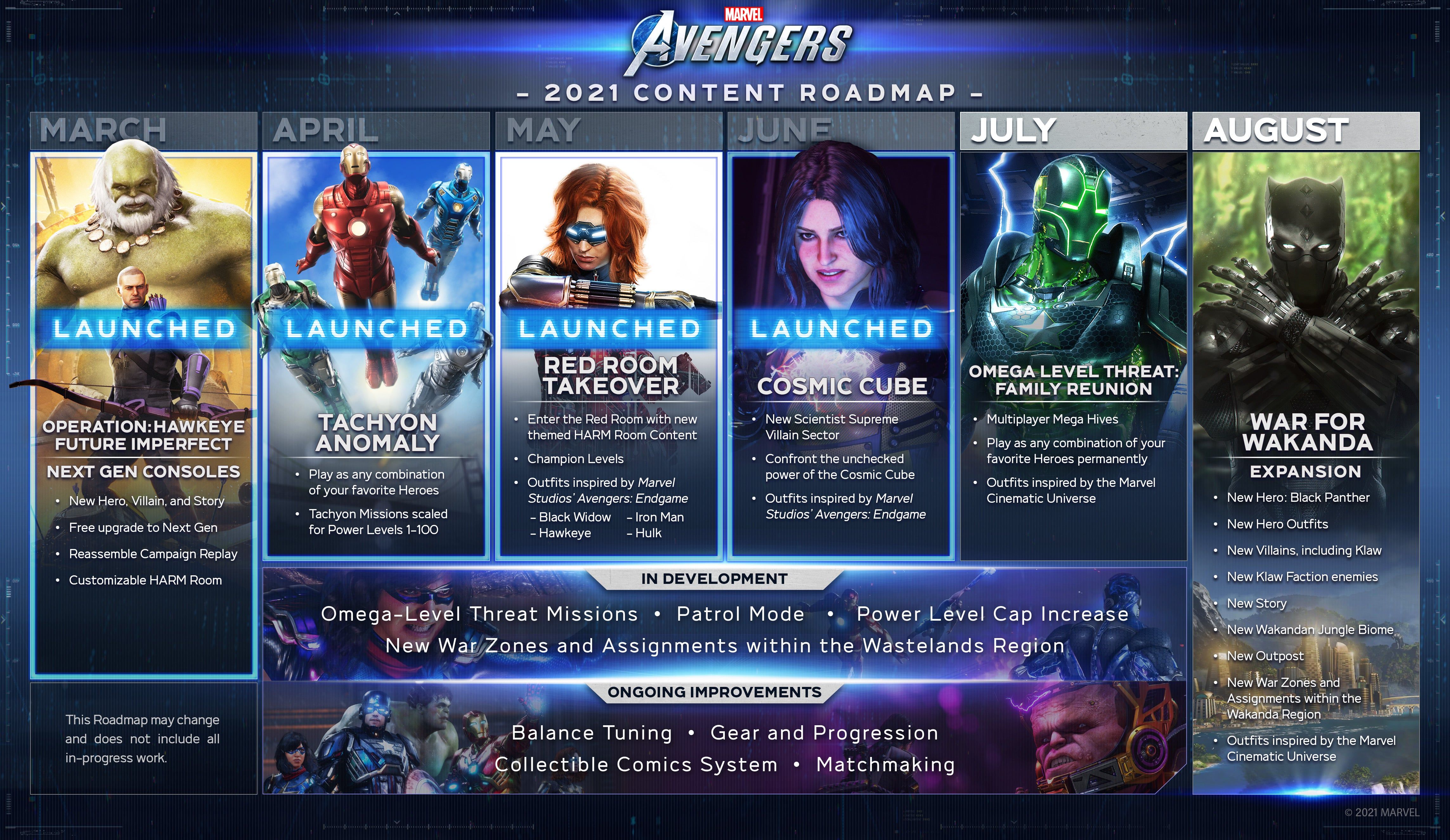 When is the updated Avengers roadmap arriving?
September 8, 2022
"Updated Roadmap – You've been so patient, and we're finally ready to share an updated Roadmap with you looking ahead through the rest of 2021. Keep your eyes peeled for it on 9/8."
What will the State of the Game blog cover?
"State of the Game Blog – In addition to our updated Roadmap, we want to offer additional insight into what we have planned moving forward. Our State of the Game Blog will reflect on Year One in addition to sharing our plans for the future with you. Look out for it on 9/8, as well."
It sounds like September 8 is going to be a huge day for fans of Marvel's Avengers and should help lay the foundation for what the community can expect throughout the final months of 2021 and hopefully even offer a sneak peek at what might be on the way throughout 2022. Hopefully the preview includes both content changes, additions, and some additional playable hero information for the coming year.
Be sure to check back in the near future for more Marvel's Avengers news, updates, and strategy guides. Until then, Avengers Assemble!
Marvel's Avengers is available now on PC, PS4, PS5, Xbox One, and Xbox Series X.
MORE: Marvel's Avengers – What's In The Endgame Edition?