The Nintendo Switch has received a price drop in Europe. The remarkably successful Nintendo hybrid console may not appear to need a price cut at first blush, as it now has surpassed the Xbox 360 and PS3 in sales with nearly 90 million consoles sold. However, Nintendo has officially dropped the price of the base model on its website and other retailers will likely soon follow.
Just a few days ago, there were rumors that Nintendo was planning to cut the price of the Nintendo Switch in Europe. That information seems to now be confirmed. The exact reasoning was only theorized with the rumors, but with the Nintendo Switch OLED around the corner, the price drop seemed plausible.
RELATED: Gamers Are Celebrating National Video Game Day
According to Nintendo's official UK website, the base Nintendo Switch is now listed at £259.99. The soon-to-be-released Nintendo Switch OLED is listed at £309.99. Meanwhile, best selling Switch variation from 2020–the Switch Lite–is listed at £199.99. The base model Switch used to be £279.99/€329.99, so the drop to £259.99/€299.99 is rather beefy.
According to Eurogamer, Nintendo made the changes due to currency exchange rate changes in the region as well as the upcoming release of the Nintendo Switch OLED. This change comes four and a half years after the launch of Nintendo's hybrid console. The Switch is well on its way to perhaps being the best-selling console ever, and a slight price cut along with the Switch OLED could even boost sales.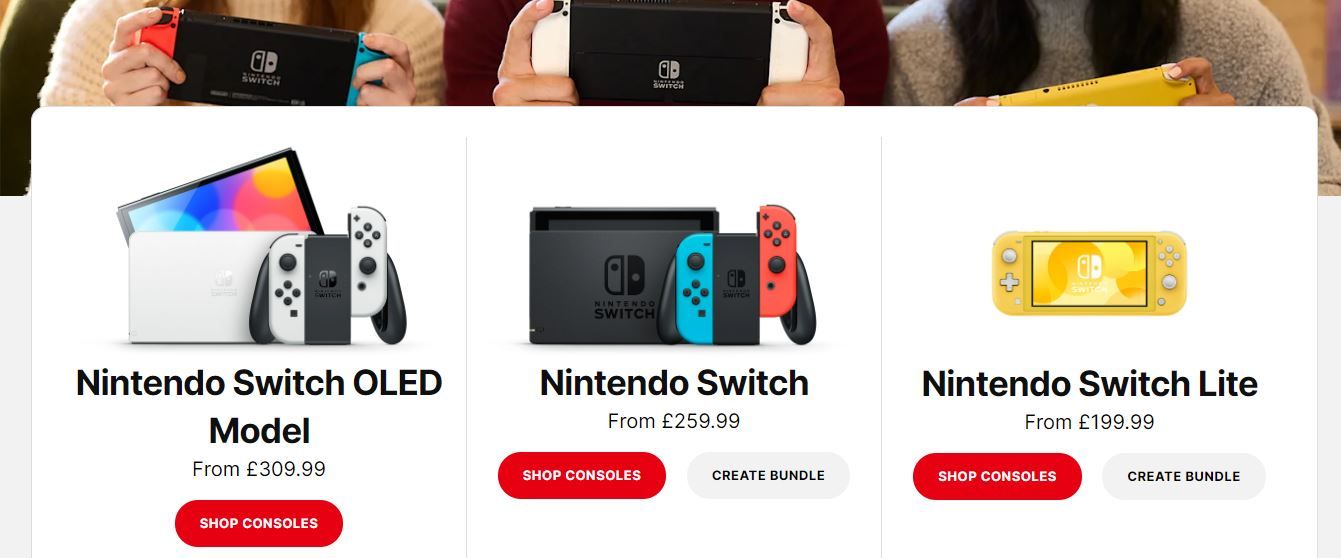 We made the price change before the launch of Nintendo Switch – OLED Model so that the price differences between each model in Nintendo's own retail channel, My Nintendo Store, would be what Nintendo judges to be appropriate for its own store.
Nintendo's change in pricing does not affect every retailer, as the company does not set the prices at large in Europe. However, with this new suggested price and Nintendo taking charge by lowering the pricing on its own site, it is likely that retailers across the region will soon follow. It would be wise for Amazon, GAME, and other retailers in the area to adjust the pricing of the base retail Nintendo Switch model as well to match Nintendo's alterations.
As of now, Nintendo has not yet made a change to the Switch's price in any other region. With the reasoning having to do partially with the launch of the Switch OLED–and wanting to seemingly have a close price range between each model–it seems plausible that Nintendo would change the pricing elsewhere. It could be that the Switch will only receive its price cut in Europe, but there is a chance that other regions will see a lower-priced model as well.
MORE: Pokemon Character Customization Still Has A Long Way to Go
Source: Eurogamer