Anyone who's into PC gaming, or has been keeping an eye on tech news lately, knows that there are essentially two major companies when it comes to graphics cards, Nvidia and AMD. While Intel is also going to be launching its own brand of GPUs, it's the latter two that have been head-to-head for some time. While much of it may come down to personal tastes, Nvidia is generally regarded as the stronger of the two, and some recent information regarding Steam may confirm that.
In a recent analysis by Tom's Hardware, it seems that Nvidia is quite ahead of its rival in terms of what hardware Steam players are currently using. The data that's been extracted shows that more people are using Nvidia GPUs than AMD, and that these numbers have been increasing over the last few months, with seemingly no way the latter company can catch up.
RELATED: AMD Allegedly Developing RX 6900 XTX To Rival Nvidia
One thing the report notes is just how many new graphics cards have been tallied by the Steam survey, despite the ongoing shortages in tech and gaming hardware. The chart shows that users have an RTX 3080 Ti, or the laptop RTX 3050. For this reason, the analysis may be called into question, with the possibility that the survey may be churning out inaccurate information. However, it doesn't necessarily mean that it's wholly wrong, and it does portray a very clear picture, that more gamers are using Nvidia cards than AMD or even Intel integrated chips.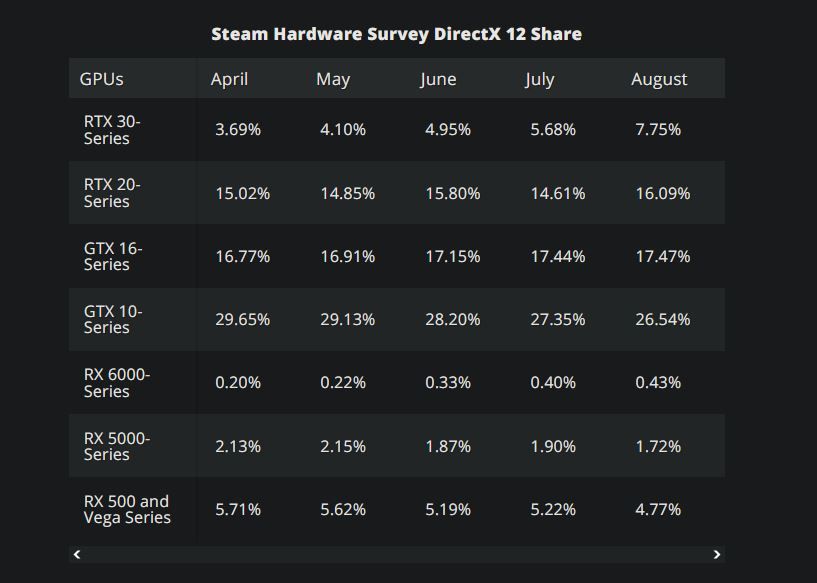 Another thing that was spotted is that the majority of the lion's share seems to go to the RTX 10-series, which accounts for 26.54% of overall GPU usage for last month. A quick look on the Steam stats page does indeed appear to line up with this. The table shows that the most used graphics card is the Nvidia GTX 1060. In second place is the RTX 2060 which the company has been planning to bring back while the world still experiences a chip deficit.
Of course, it's perhaps worth taking the finer details with a grain of salt. What seems to be clear is that one company is outselling its rival quite significantly. Though that's not to say the runner-up is not doing well. With both Nvidia and AMD reporting a 35% increase in sales for Q1 2021, the fact that Nvidia is outperforming the latter does not detract from how well both are doing, despite the tumultuous time that the tech industry is currently going through.
MORE: Intel Has a Chance to Hit the Ground Running With Its Arc GPUs
Source: Tom's Hardware