Tales of Arise has been adored by new players and veterans alike, with the buzz around it breaking Tales player counts on Steam within the first week. If players want to keep benefitting from the buffs their cooking gives throughout the title, then they need to stock up on ingredients. Fortunately, the game's first realm provides ample farming opportunities, with the best place to do so in Calaglia being the Iglia Wastes.
The Ingredients in Iglia Wastes
Right away as gamers enter the Wastes to find party member Shionne's new outfit, an ivy ladder can be seen on the left side. If players climb it, they can find a new ingredient to the right of the stairs they run into. Those potatoes found there will come in handy for a new recipe later.
RELATED: Tales of Arise Details New Character Shionne
If fans continue to go right, they can follow the curve of the higher ground to find wheat, as well, adding to the supply they've gained from Sandius Ravine.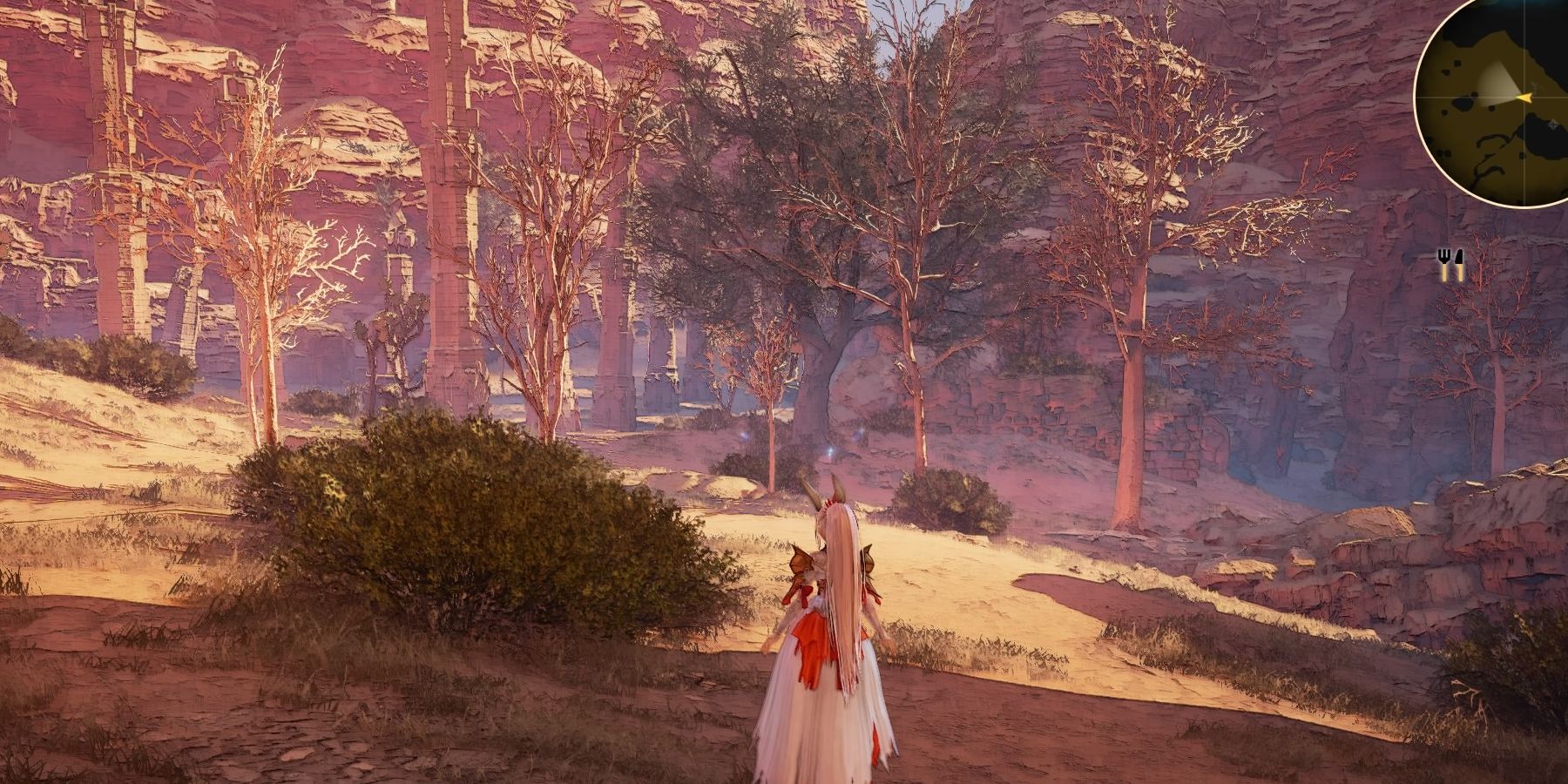 Back onto the main ground, the wolves to the right should be followed to lead to the remains of an abandoned house. Tales of Arise players can turn right at the house to find even more potatoes.
If players continue down the main path, they should find a flourishing tree to the left with sparkles at the foot of it. Examining those sparkles will yield wheat. Across from that is an abandoned house. Players can stop by real quick to collect a few mushrooms found inside.
Once again, players can follow the main road after passing that tree to possibly get interrupted by the remains of a house wall. Jumping over the house wall should allow fans to see some sparkles. Following those will reward them with potatoes once collected.
One of the higher points in the Iglia Wastes leads to a big tree on top of a hill. Turning right at that tree leads players to a hidden hole in the cliffside. Going inside will lead to yet another tree with sparkles at its roots, smaller trees all around it as pictured above. Collecting the plants found there gives more wheat for the game's porridge recipe. If players turn left, they'll eventually run into another bunch of potatoes.
Huge, eroded pillars mark the entrance to the Fagan Ruins, the destinations players seek for Shionne's request for a new outfit. Between the 2nd and 3rd pillars on the right is a pond that Tales fans can use to get some quick carp that also doubles as one of Tales of Arise's fishing spots. There's another pond a little way across as well that can give yet another carp for players' trouble.
With those ingredients claimed, players can find them on the map as they go through Calaglia. Once fans can fast-travel, they can always come back to the wastes to get more ingredients as they respawn over time. With ingredient points marked on the map permanently, players won't have to fret about running out of ingredients as they can always come back for more, and possibly get some extra EXP for their trouble.
MORE: Tales of Arise: Astral Crystal Grain Location