Not only do the many sub-quests in Tales of Arise serve as a nice change of pace from the game's main story, but they're also a great way of earning Gald and SP, which can be used to purchase new armor for Alphen and the rest of the party and unlock new skills respectively. There are 70 of these sub-quests in total, 12 of which can be found in the game's second realm, Cyslodia.
RELATED: Tales of Arise: Every Sub-Quest in Calaglia (& How To Complete Them)
The majority of Cyslodia's sub-quests can be completed before it's time to leave for Menancia, though there are a handful that can only be tackled once players are approaching the very end of Tales of Arise's epic story. It's also worth noting that several of them involve taking down monstrous Gigant Zeugles, so players will need to make sure that their party is at an appropriate level before taking them on.
Quick Links
Fire Beneath the Ice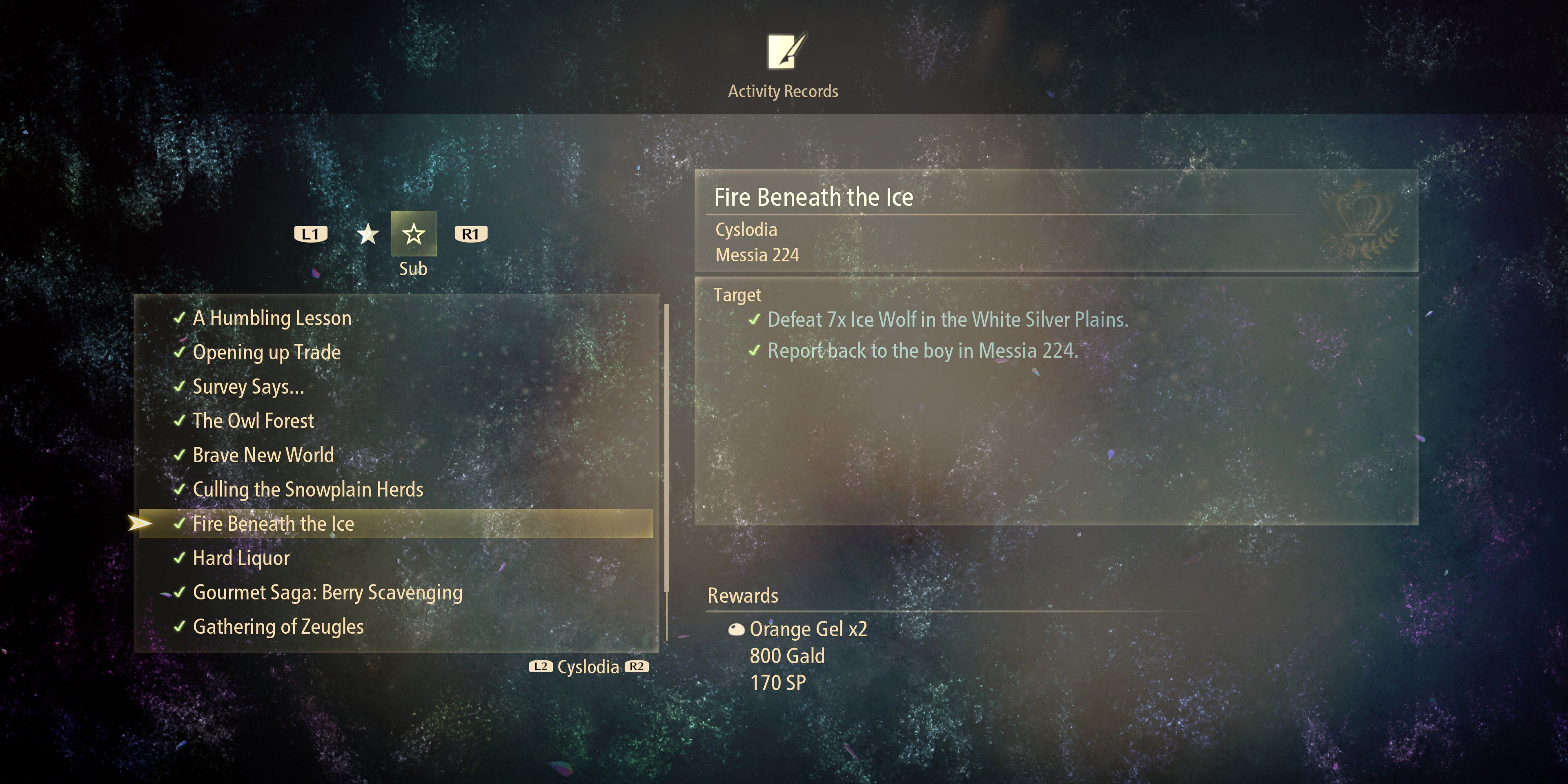 Quest Giver
Messian Youngster (Messia 224)
Unlock Requirements
Enter the realm of Cyslodia.
Strategy
Defeat seven Ice Wolves in White Silver Plains.
Rewards

Orange Gel (x2)
800 Gald
170 SP
Hard Liquor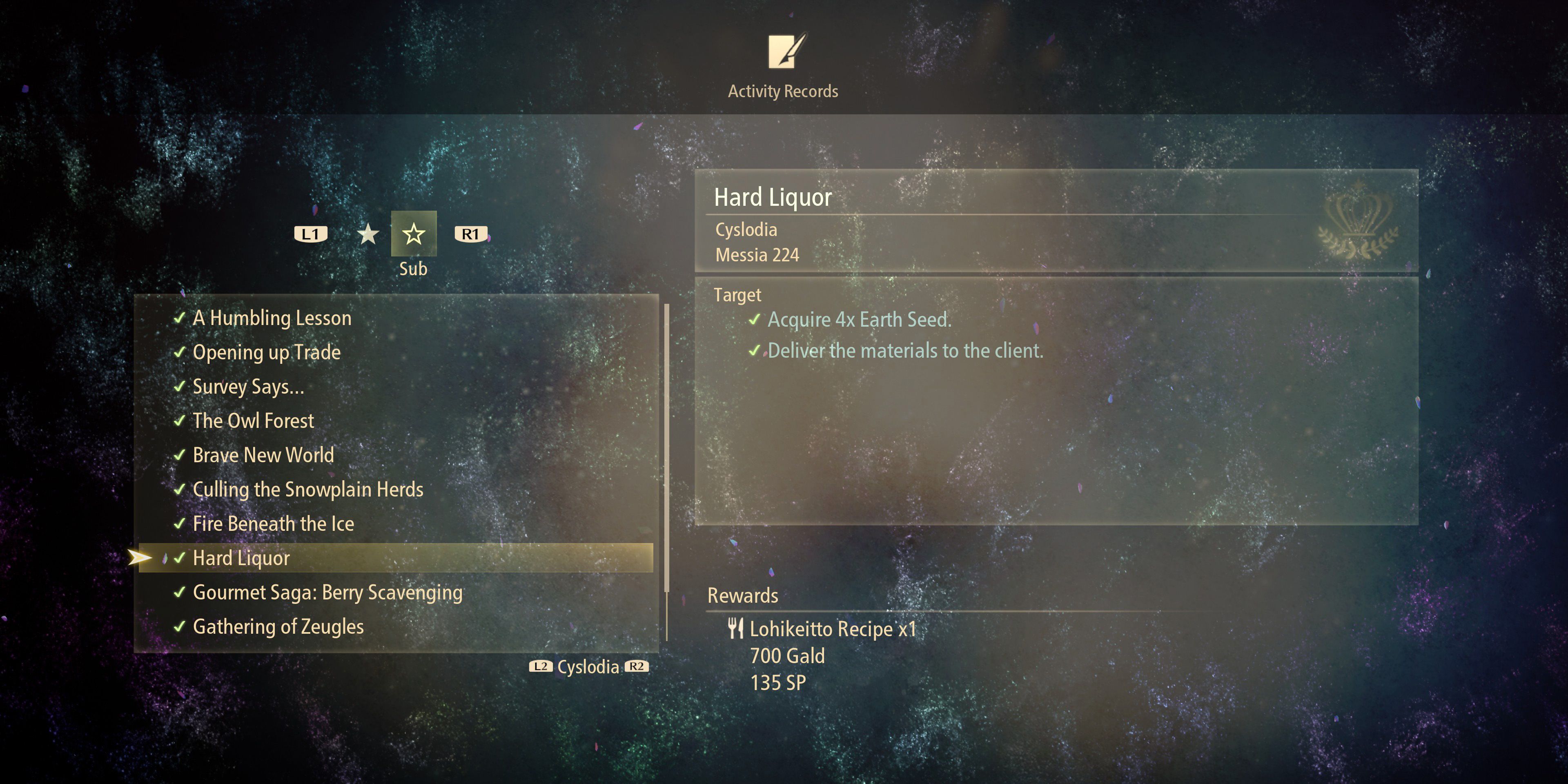 Quest Giver
Woodcutter Man (Messia 224)
Unlock Requirements
Enter the realm of Cyslodia.
Strategy
Give the man four Earth Seeds.
Rewards

Lohikeitto Recipe
700 Gald
135 SP
Thawing Relations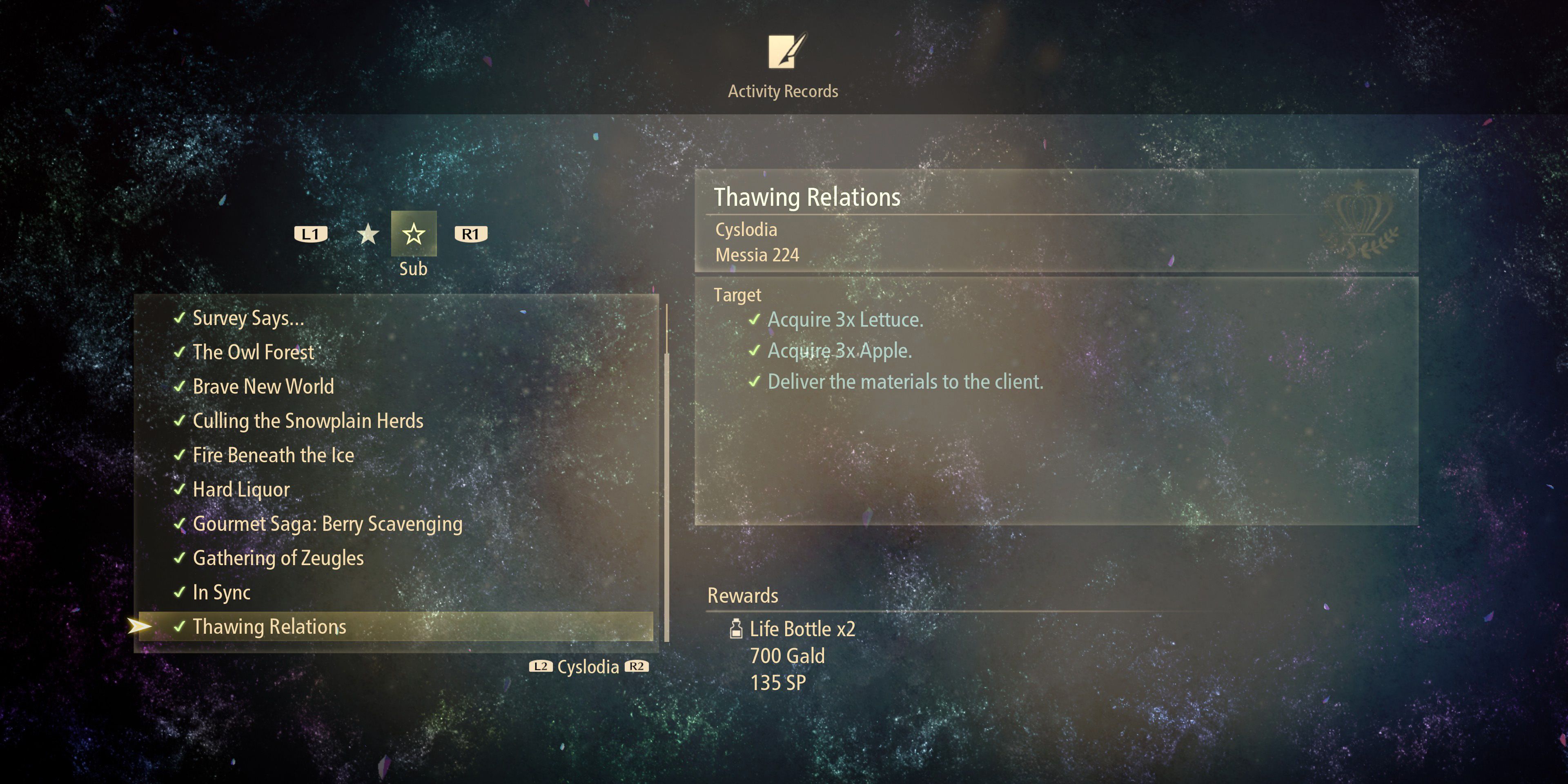 Quest Giver
Skeptical Man (Messia 224)
Unlock Requirements
Enter the realm of Cyslodia.
Strategy
Give the man lettuce (x3) and apples (x3).
Rewards

Life Bottle (x2)
700 Gald
135 SP
The Owl Forest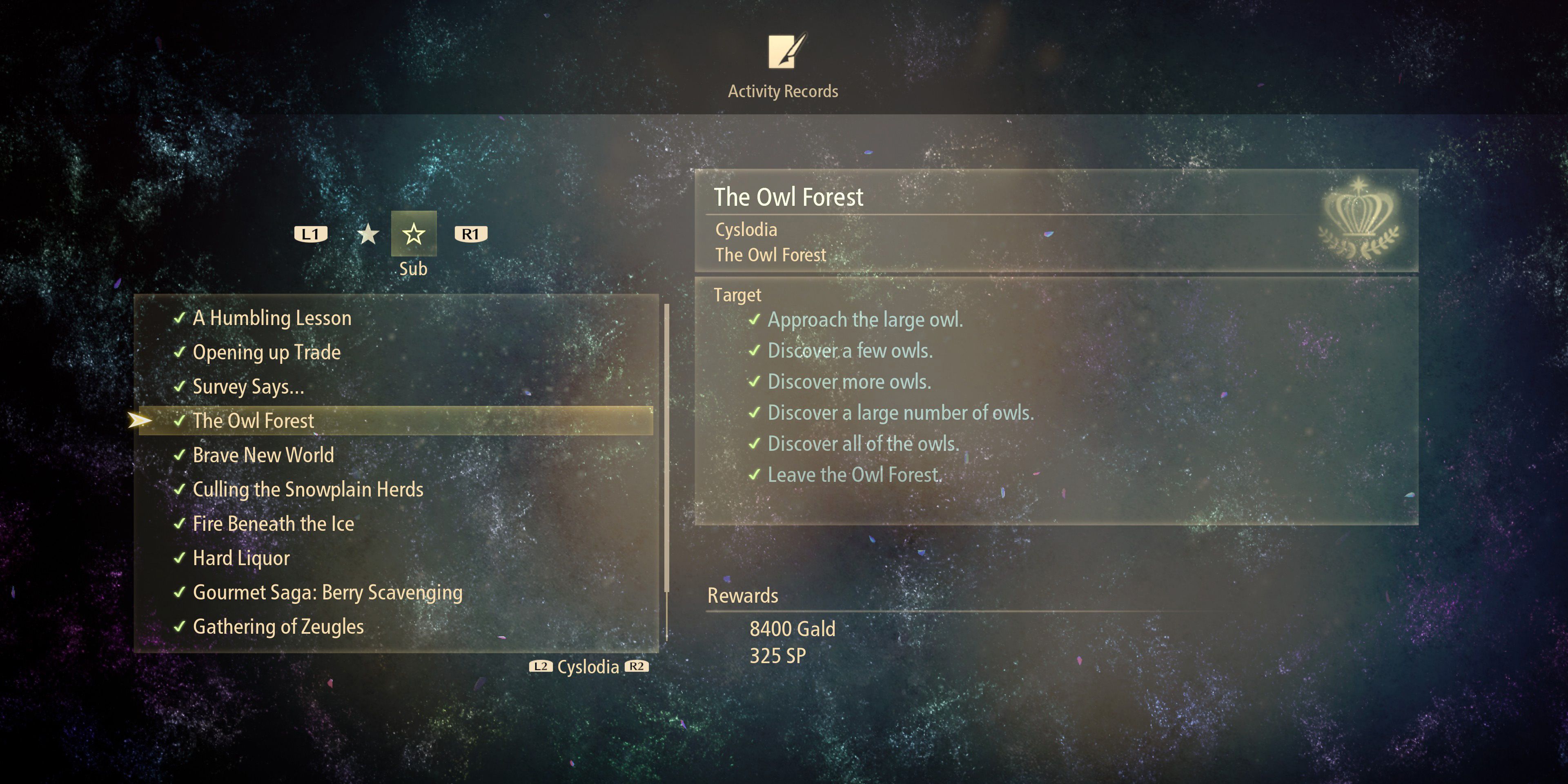 Quest Giver
Automatic
Unlock Requirements
Enter the Owl Forest in Nevira Snowplains.
Strategy
Find all 38 owls on Dahna.
Rewards

8,400 Gald
325 SP
Various Outfits
Machine Beast Statue (Artifact)
Gathering of Zeugles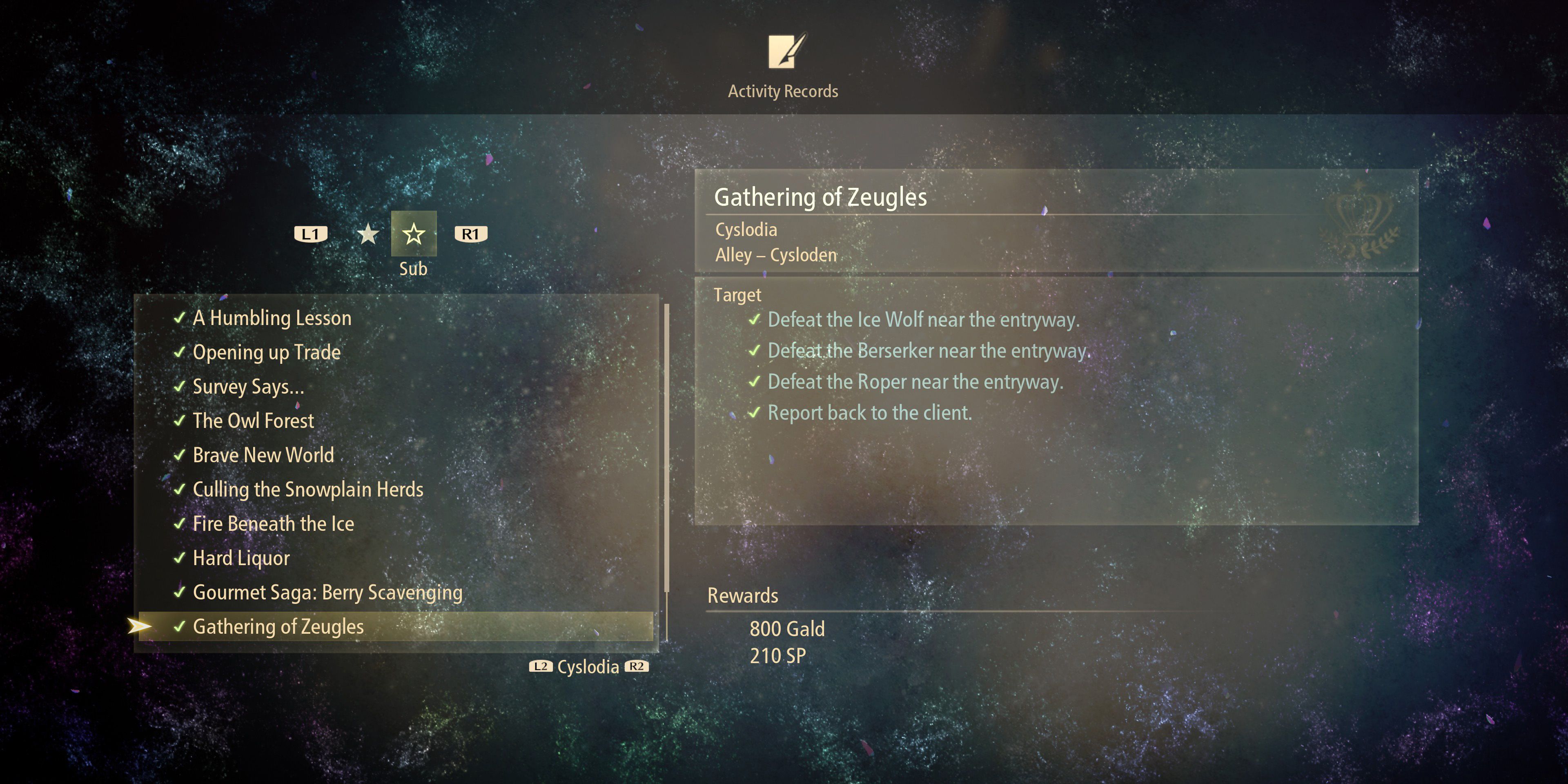 | | |
| --- | --- |
| Quest Giver | Silver Swords Porter (Cysloden) |
| Unlock Requirements | Arrive in Cysloden and meet up with Meneck. |
| Strategy | Travel to Nevira Snowplains and defeat the three groups of Zeugles. |
| Rewards | |
Gourmet Saga: Berry Scavenging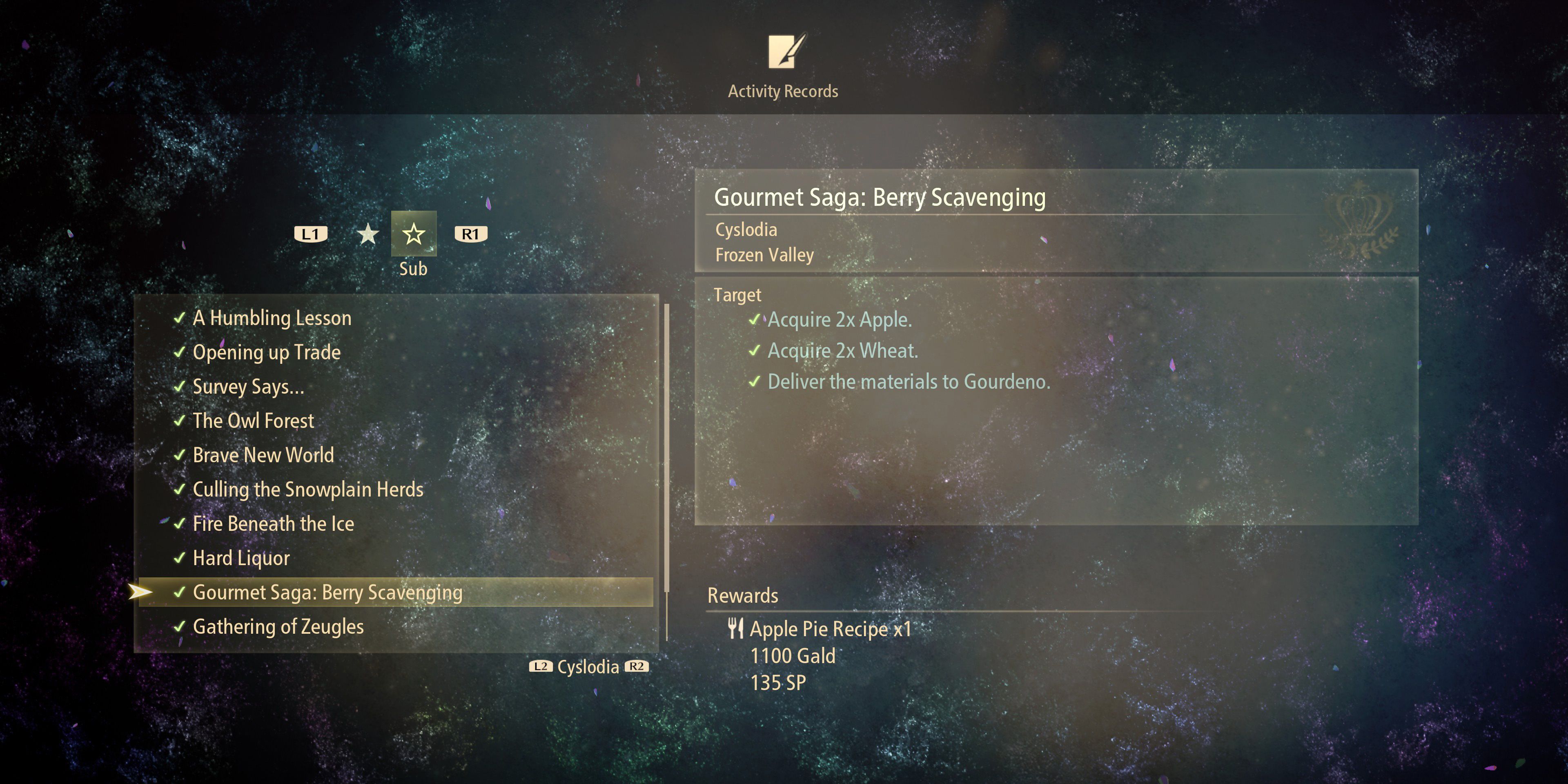 Quest Giver
Gourdeno (Frozen Valley)
Unlock Requirements
Defeat Ganabelt in Riville Prison Tower.
Strategy
Give Gourdeno apples (x2) and wheat (x2).
Rewards

Apple Pie Recipe
1,100 Gald
135 SP
Culling the Snowplain Herd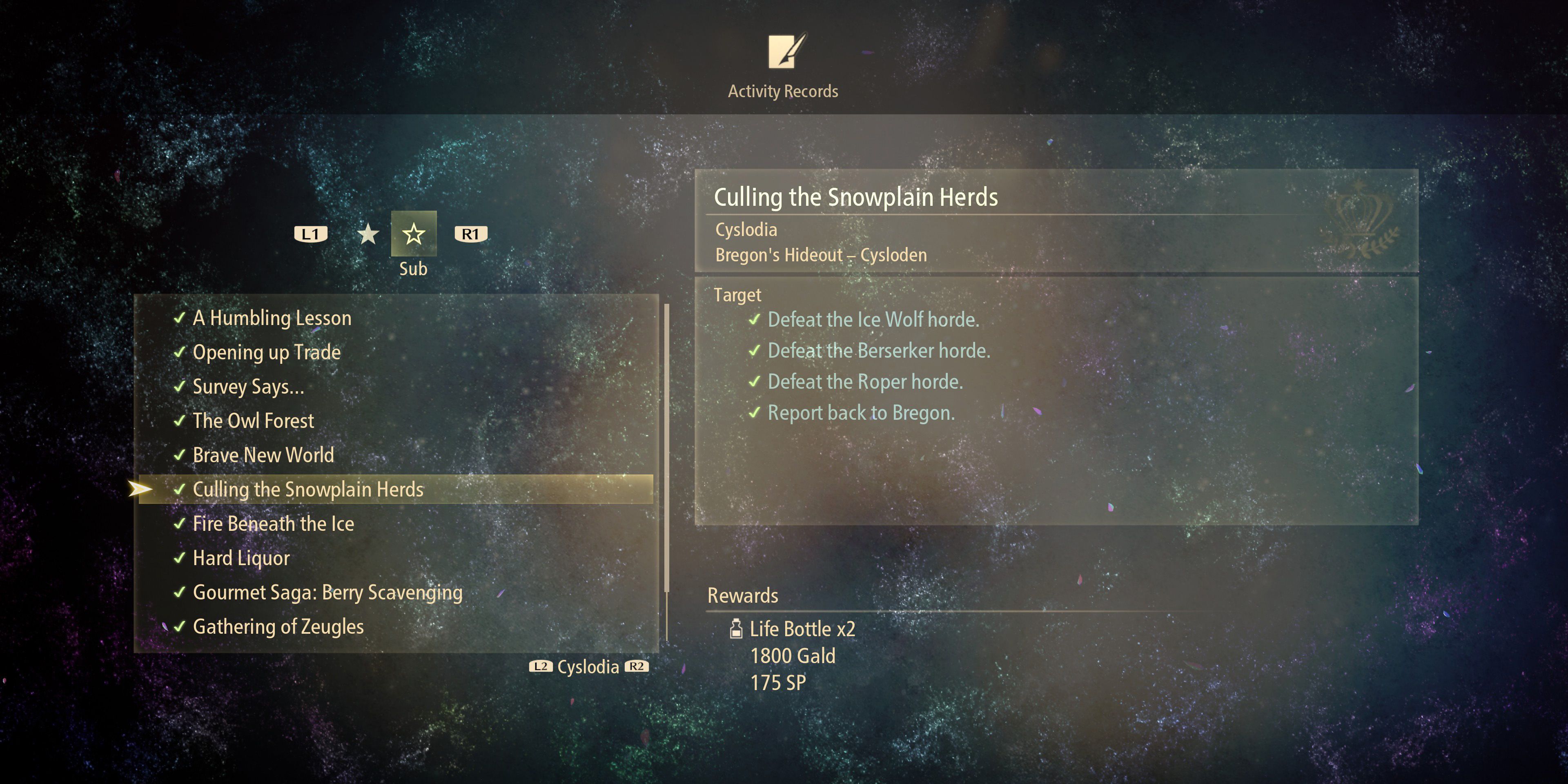 Quest Giver
Bregon (Bregon's Hideout)
Unlock Requirements
Defeat Ganabelt in Riville Prison Tower.
Strategy
Travel to Nevira Snowplains and defeat the three groups of Zeugles.
Rewards

Life Bottle (x2)
1,800 Gald
175 SP
Survey Says…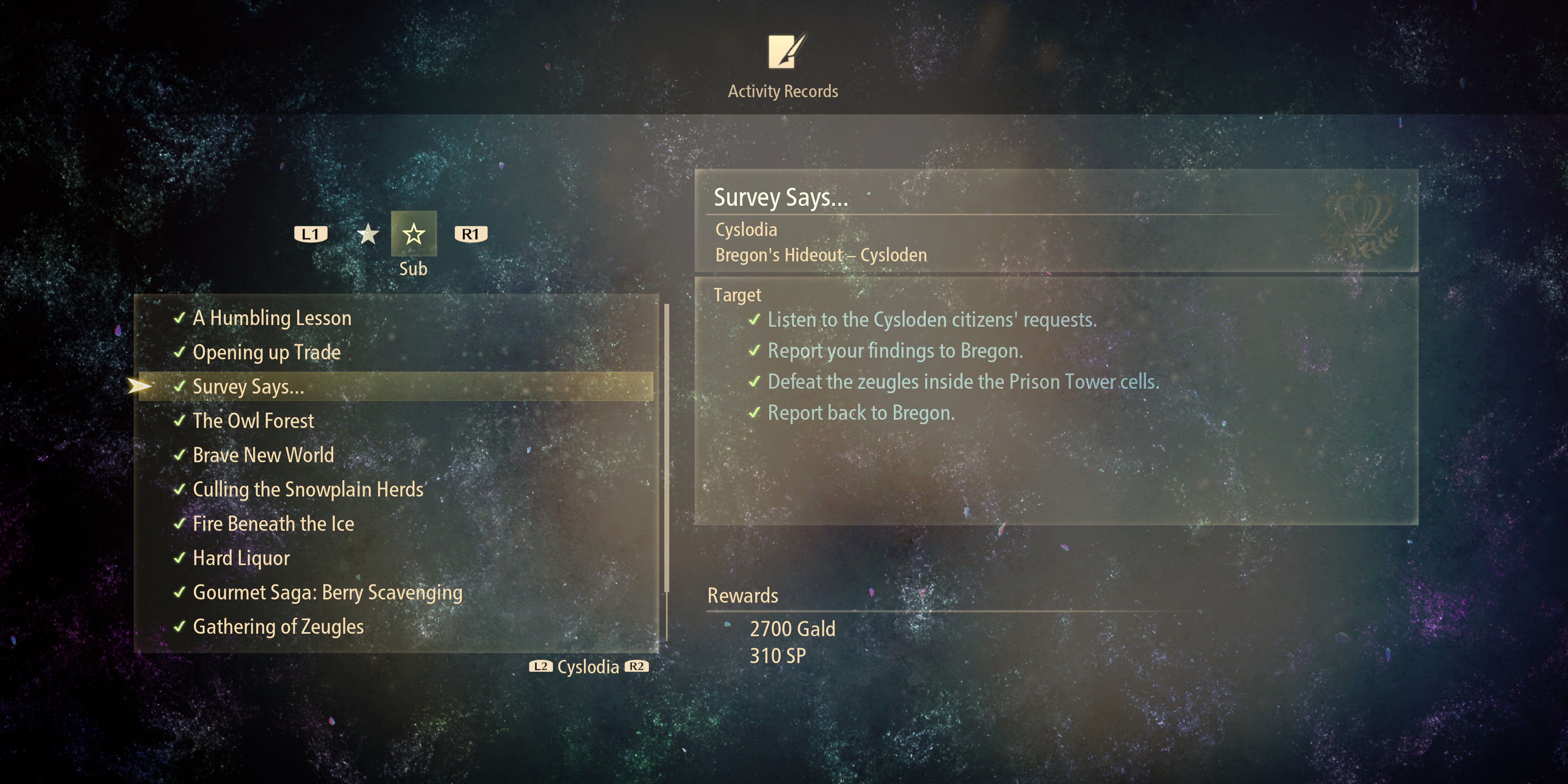 | | |
| --- | --- |
| Quest Giver | Bregon (Bregon's Hideout) |
| Unlock Requirements | Complete the "Culling the Snowplain Herd" sub-quest. |
| Strategy | Speak to the three marked NPCs who are scattered throughout Cysloden and then return to Bregon. The party will then need to defeat the Polycephus Gigant Zeugle (level 21) in the basement of Riville Prison Tower. |
| Rewards | |
Opening up Trade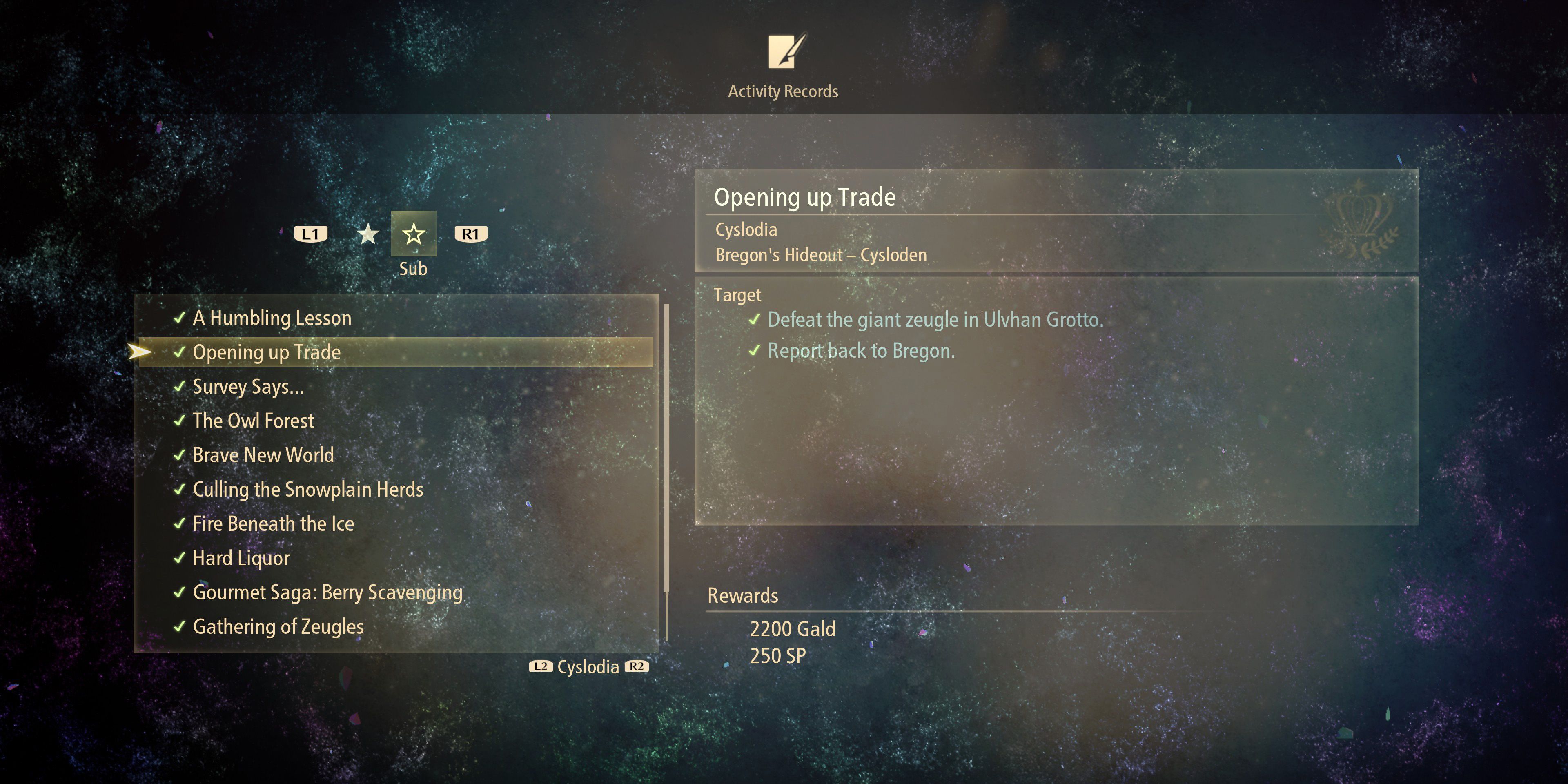 | | |
| --- | --- |
| Quest Giver | Bregon (Bregon's Hideout) |
| Unlock Requirements | Complete the "Survey Says…" sub-quest. |
| Strategy | Head to the Ulvhan Grotto area and defeat the Boisterous Roper Gigan Zeugle (level 15). |
| Rewards | |
In Sync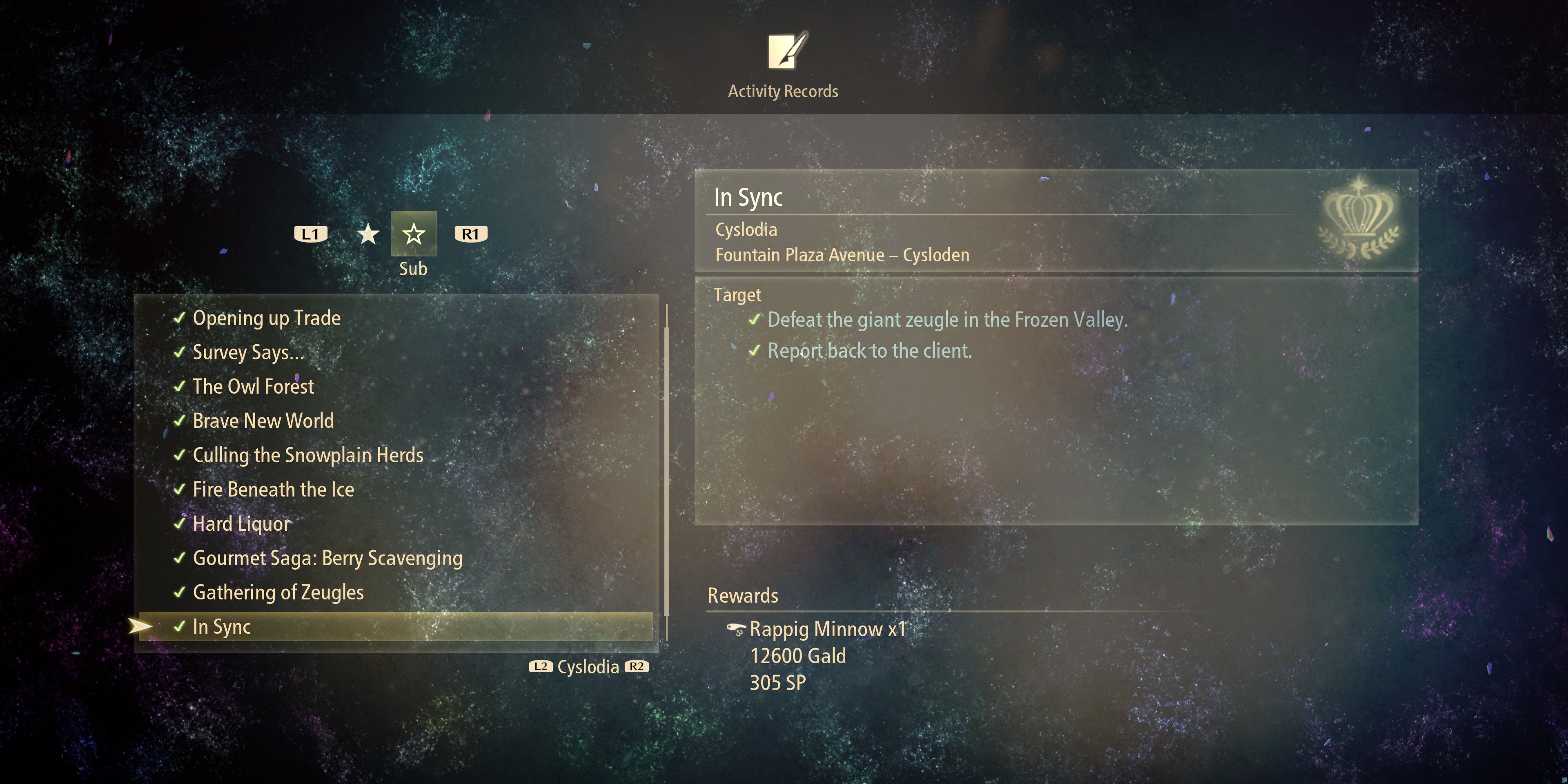 Quest Giver
Patvo (Cysloden)
Unlock Requirements
Defeat Vholran at Del Fharis Castle and then return to Cyslodia via the Forland Mountains.
Strategy
Head to the Frozen Valley area and defeat the Agony Keeper Gigant Zeugle (level 39)
Rewards

Rappig Minnow (Fishing Lure)
12,600 Gald
305 SP
Brave New World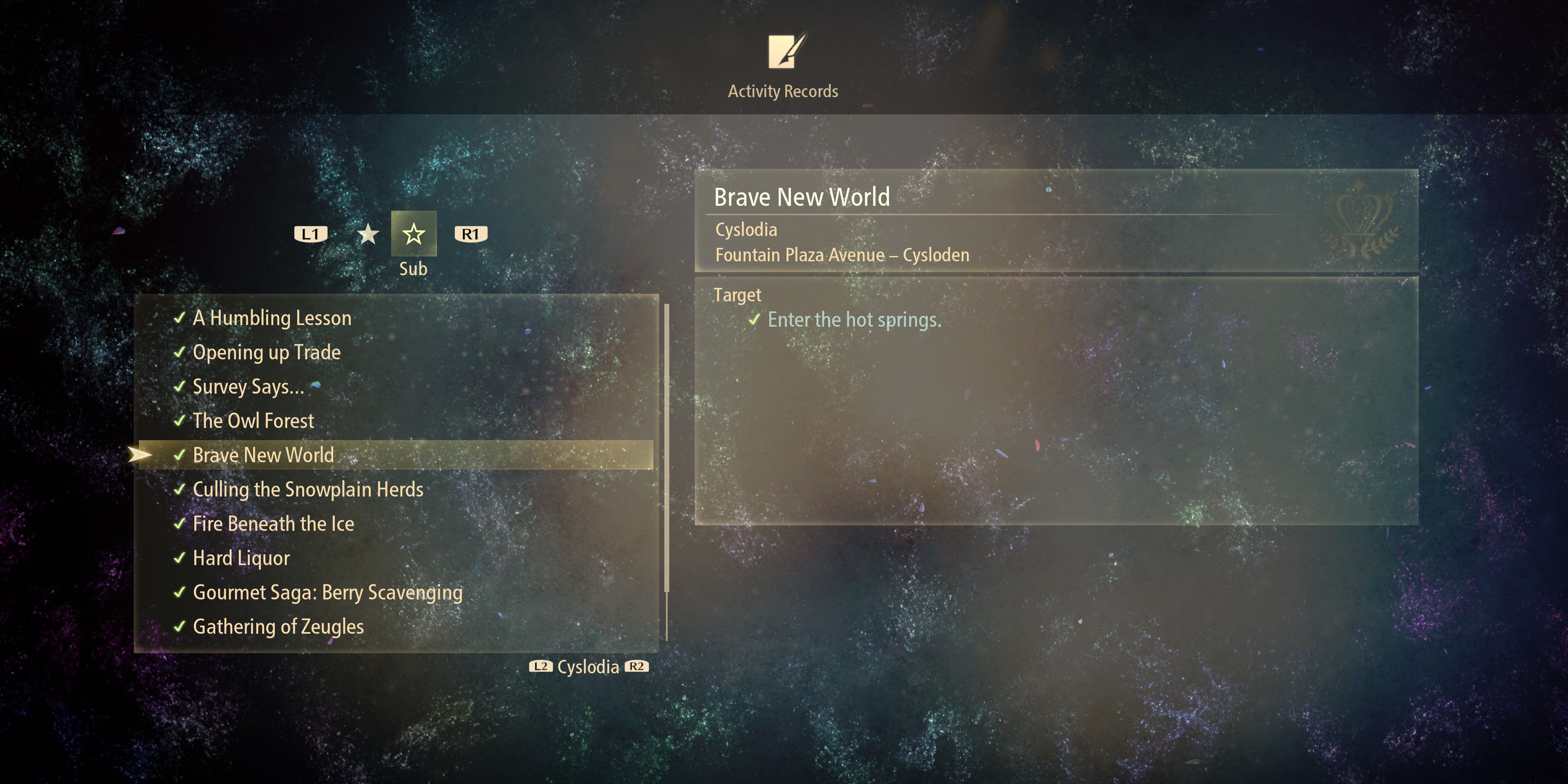 | | |
| --- | --- |
| Quest Giver | Manager (Cysloden) |
| Unlock Requirements | Reach the Rena section of the story. |
| Strategy | Watch the cutscene. |
| Rewards | Male Steamy Towel Set (Outfits) |
A Humbling Lesson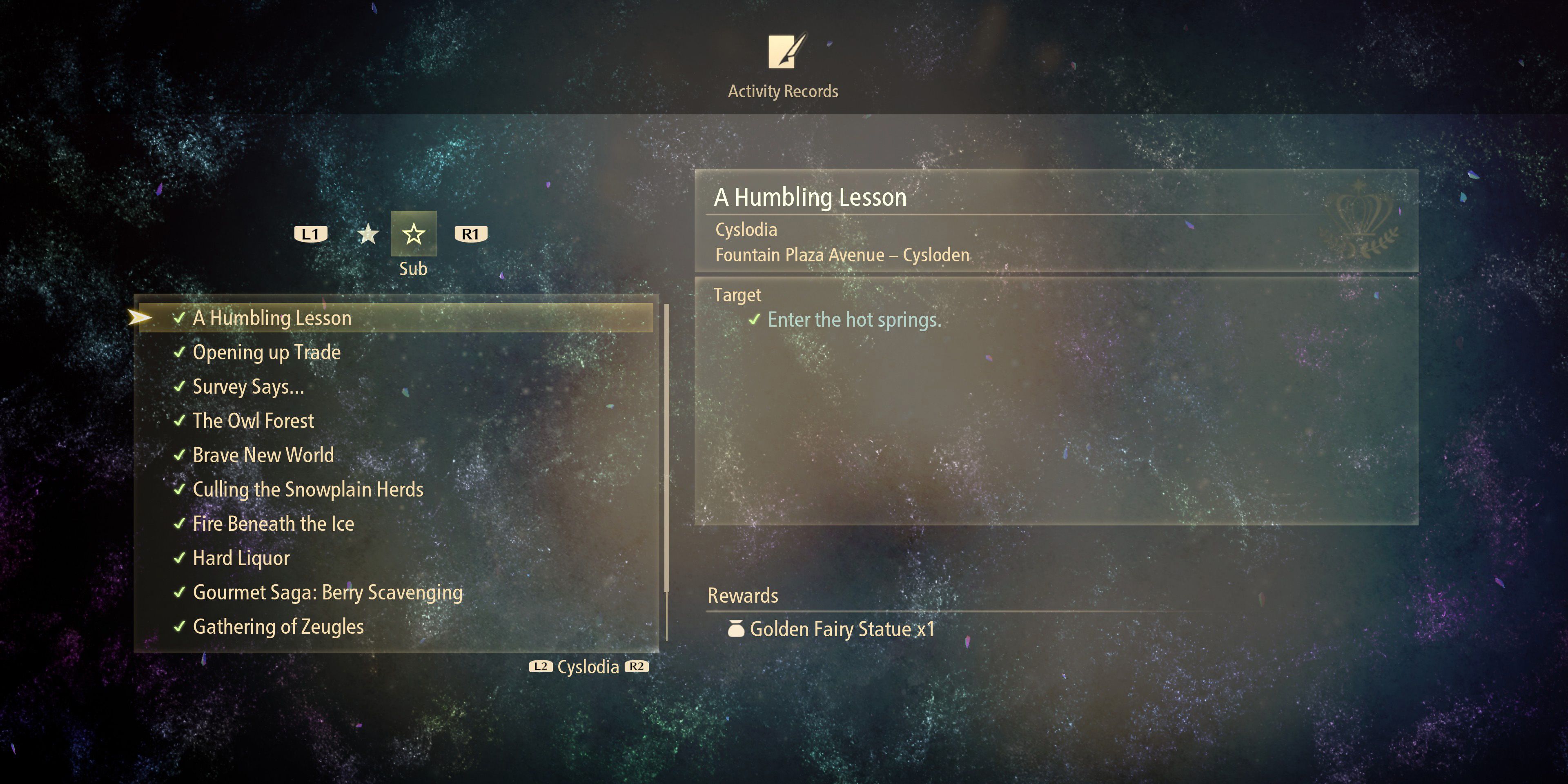 Quest Giver
Manager (Cysloden)
Unlock Requirements
Complete the "Brave New World" sub-quest.
Strategy
Watch the cutscene.
Rewards

Female Steamy Towel Set (Outfits)
Braiden Bun Hair (Outfit)
Golden Fairy Statue (Artifact)
MORE: Tales of Arise Complete Guide – Weapons, Collectibles & Key Story Beats