Nintendo's Wii Fit debuted in North America in 2008 and quickly became a phenomenon, becoming what was at the time the third bestselling console game by 2012. It seemed that practically everyone who owned a Nintendo Wii also owned the Wii Balance Board peripheral, and Wii Fit was a key element of Nintendo's then 10-year plan to improve people's quality of life "in enjoyable ways." As with many well-intentioned plans, however, there were unforeseen downsides to the Wii Fit.
For most people, the Wii Fit probably fell into the same category as exercise bikes and treadmills, equipment purchased with lofty goals that was initially used with gusto but soon became dust covered and forgotten. Others made full use of the Wii Fit and enjoyed its positive benefits, like George Perkins' "Nan." In June 2020, Perkins tweeted about his gamer grandmother who had used her Wii Fit daily for 13 years, or 4,784 consecutive days. It's likely that the daily physical exercise has helped sustain, if not improve, his grandmother's health.
RELATED: Nintendo Switch Series Fitness Boxing Receives Anime Adaptation
On the other hand, a recent viral TikTok video by singer Leanna Firestone, aka leannaeileen, shows a more somber side of Nintendo's Wii Fit. Firestone sings about the impact Nintendo's exercise program can have on a person's self-esteem, in this instance a teenager. Rather than having fun with Wii Fit, the song draws a picture of a girl learning from the game that she's obese, worrying about body mass index, skipping meals, and perhaps obsessively exercising daily for an hour. The song ends with the words, "And it's all fun and it's all games until it's time to weigh back in. And when nothing changed, I hated myself instead of my Wii Fit." The video can be viewed here.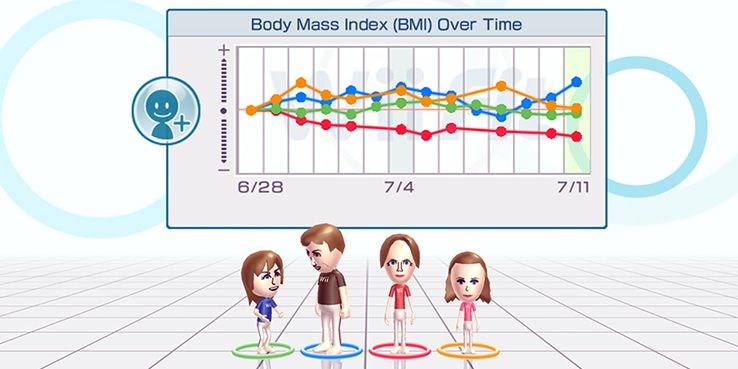 Although Firestone's TikTok post is accompanied by the caption "PLEASE TELL ME U KNOW WHAT IM TAKING BOUT" and seems to also be conveying a humorous take on the situation, it inevitably sends a powerful message. Adolescents and teenagers, no matter the gender, are particularly susceptible to the negative impacts of worrying about weight and appearance too soon. One 2016 study posted on the NIH National Library of Medicine found that the average age of onset for eating disorders was 18 years.
As with many things, it's difficult to strike a balance between the positive effects of regular exercise and the potential negatives. Wii Fit features yoga for flexibility, strength training, aerobics for heart and lung health, and balance games, which are particularly useful as people age. Nintendo's exergame has been used in physiotherapy for kids and adults who, for example, have lost limbs and need assistance with improving their balance and building muscles. The Wii Fit became so ubiquitous and popular that the female Wii Fit trainer became iconic, joining the lineup of playable characters in 2014's Super Smash Bros. for Nintendo 3DS and Wii U and again in 2018's Super Smash Bros. Ultimate.
Wii Fit is available on Nintendo Wii.
MORE: Exercise At Home: 10 VR Games That Make You Sweat
Source: NIH National Library of Medicine