Hogwarts Legacy is shaping up to be the most ambitious Harry Potter video game project to date, and so it's no surprise that there's a great deal of hype behind the game. Harry Potter fans have been raving about Hogwarts Legacy since its reveal trailer and can't wait to see more, and while it's unclear when more information on the open world action-RPG will drop, an Avalanche Software job listing may confirm that the game will not be using Unreal Engine 5.
Avalanche is hiring a General Artist for Hogwarts Legacy, with the studio looking for someone with Unreal Engine 4 experience. Unreal Engine 5 is the latest and most technologically impressive version of Unreal Engine, so some fans may be surprised to learn that Hogwarts Legacy is apparently being built with UE4. However, this is something that could have been assumed anyway based on a couple of different factors.
RELATED: Hogwarts Legacy Trailer is Hiding A Ghost
For one, Hogwarts Legacy is a cross-gen game, aiming for release on PS4 and Xbox One as well as PS5 and Xbox Series X. While Unreal Engine 5 is technically compatible with this older hardware, it seems most Unreal Engine 5 projects are next-gen exclusive affairs. Properly taking advantage of Unreal Engine 5's capabilities would require a next-gen-only focus, so it makes sense that Avalanche would stick with Unreal Engine 4 when making Hogwarts Legacy.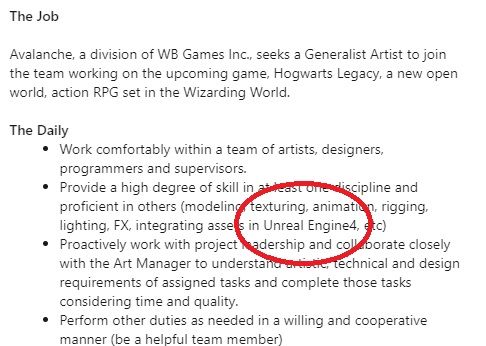 The other thing to keep in mind is that Unreal Engine 5 is still relatively new tech, but Hogwarts Legacy has been in development for years. Since Hogwarts Legacy development started years before Epic Games revealed Unreal Engine 5, it wouldn't make much sense for the developers to utilize the new tech over the existing Unreal Engine. In fact, the Hogwarts Legacy release date was originally pegged for this year before it was delayed to 2022, so it definitely wouldn't have made sense for the developers to swap over to Unreal Engine 5 at the last minute.
While Hogwarts Legacy may not be using Unreal Engine 5, there are upcoming games that appear to be utilizing the technology. For example, there is evidence to suggest that the new Mass Effect will use Unreal Engine 5 instead of EA's in-house Frostbite engine, though nothing official on that front has been confirmed at the time of this writing.
As for Hogwarts Legacy, fans should keep their fingers crossed that they will get to learn more about the game sooner rather than later. Hogwarts Legacy was rumored for E3 but was a no-show, so perhaps it will make an appearance at The Game Awards in December or maybe even the PlayStation Showcase event that's scheduled for September 9. Fans should keep their expectations in check, though.
Hogwarts Legacy launches in 2022 for PC, PS4, PS5, Xbox One, and Xbox Series X.
MORE: Hogwarts Legacy's Wands Have Huge Potential