Call of Duty: Black Ops Cold War Season 5 has been one of the stronger ones, and it looks like the back half of the Season will keep players engaged. Treyarch has confirmed what the midseason update will entail, with both the Zombies and multiplayer additions highlighted in the latest Call of Duty: Black Ops Cold War roadmap.
Fans of Outbreak are in luck, as Treyarch is once again providing a lot more content for the open world experience. Yet another region is being added, with players heading to Armada from multiplayer. A new world event is coming, too, with the Black Chest being added. While Treyarch is keeping this addition secret until players see it themselves on September 9, it certainly sounds interesting.
RELATED: Call of Duty: Black Ops Cold War Zombies Fan Proves How Buggy The Game Is
There will be more Zombies intel to collect and extra Zombies Onslaught content for PlayStation players, as well as an intriguing new mode and mechanic. In the case of the game mode, Outbreak Survival will see players spawning with only a field upgrade and the 1911. Their HUD will be limited as they search for better guns, and food must be found to restore health. As for the new mechanic, it is tied to round-based maps and is called the Rampage Inducer. The feature sees players able to increase the difficulty from the spawn room, making Zombies sprinters in the first round.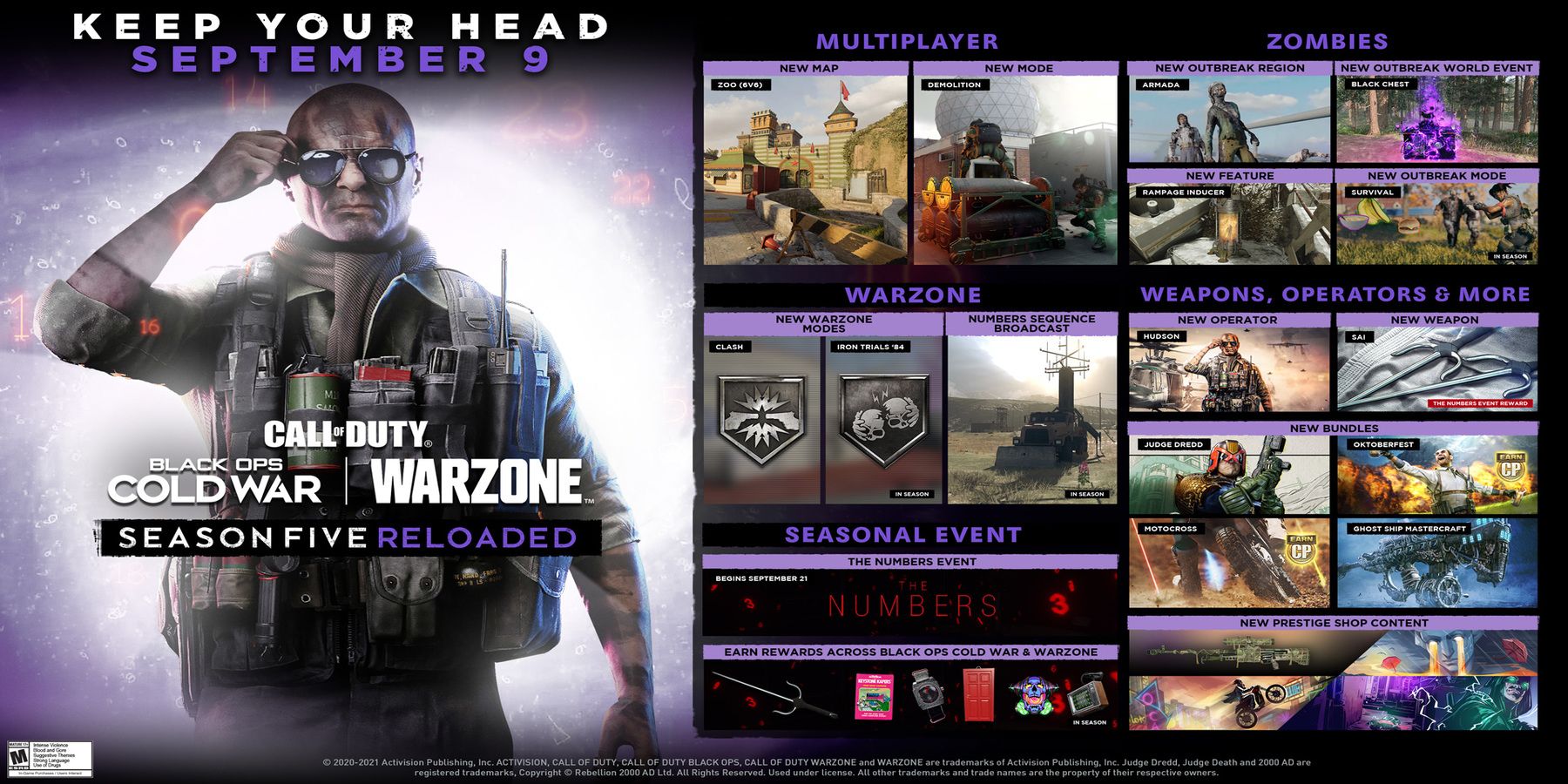 Alongside the Numbers event, multiplayer fans will get access to the Zoo map. Demolition is finally being added, too, with the classic mode having been requested for some time now. Jason Hudson will join the Operator lineup, while the Sai melee weapon will be an exclusive reward for completing challenges in the Numbers event. The Prestige Shop will also get some new calling cards and a special Sniper blueprint.
Finally, the roadmap for Season 5 Reloaded confirms the new bundles that will be coming to Call of Duty: Black Ops Cold War. The Judge Dredd bundle has been officially confirmed, though unlike the Rambo and John McClane Operators, he will only be a skin for Beck as opposed to a fully voiced character. Alongside some weapon blueprints, a neat variant sees a black and white, cel-shaded variant of Dredd being usable, with the look mimicking the comic books he first appeared in. Other bundles are coming, too, including the special Oktoberfest bundle that lets players earn back COD Points by completing special challenges.
Overall, the back half of the Season looks promising for multiplayer and Zombies fans alike. With September 9 right around the corner, Call of Duty: Black Ops Cold War players will be tracking down food in Zombies and blowing up bomb sites in multiplayer soon.
Call of Duty: Black Ops Cold War is available now on PC, PS4, PS5, Xbox One, and Xbox Series X.
MORE: Call of Duty: Vanguard's Zombies Mode Could Be Very Different From Black Ops Cold War's
Source: Call of Duty Blog